Palmer-Donavin 2022 Winter Show Starts Today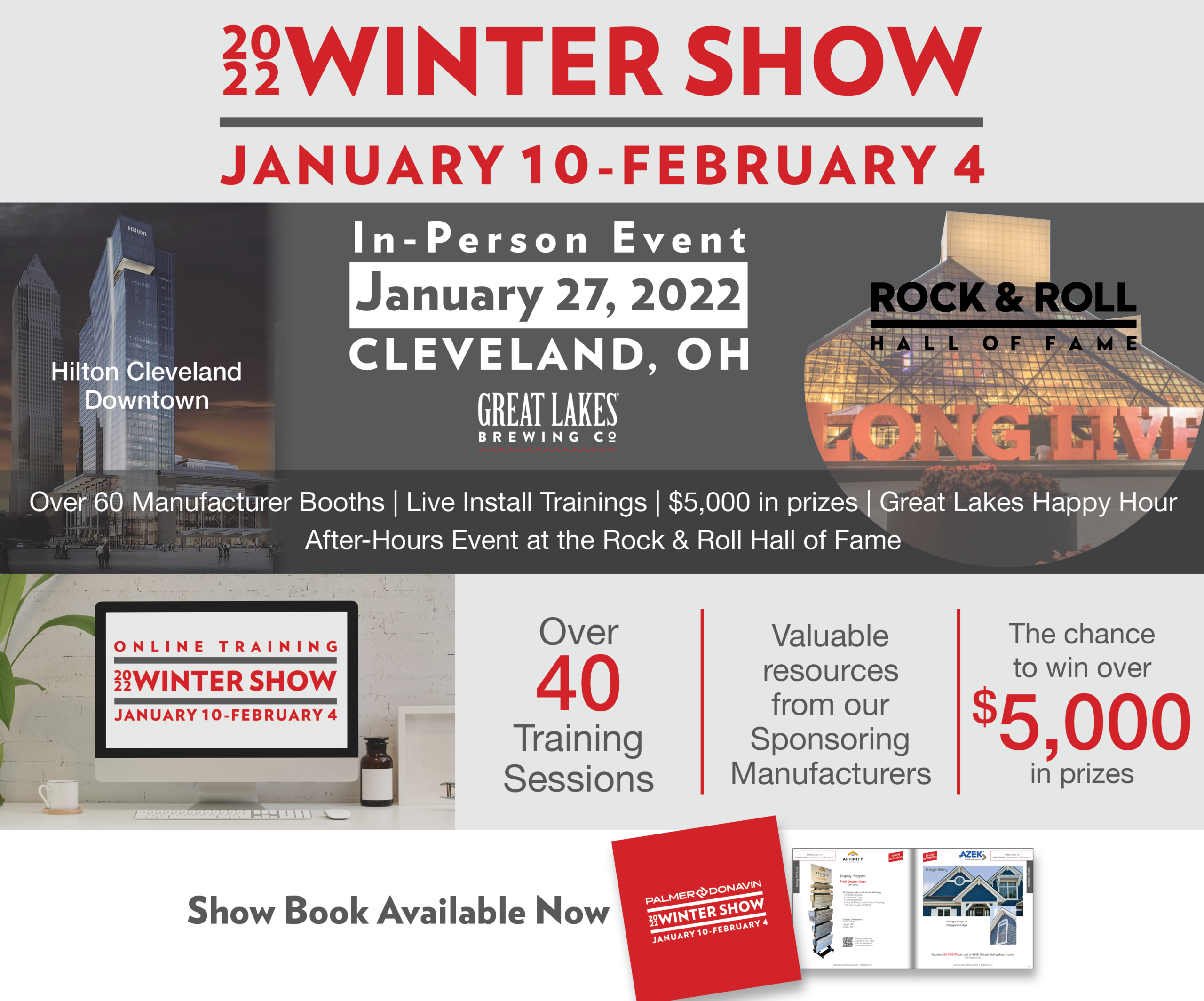 Columbus, Ohio, January 10, 2022 | Palmer-Donavin announced their 2022 Winter Show begins today. The Palmer-Donavin Winter Show, which was once solely an In-Person Event, now encompasses both an In-Person Event and an Online Training.
Dealers can opt for the In-Person Event, the Online Training or both. "It is important to offer more ways for our dealers to interact with manufacturers during a time of year traditionally dedicated to training and education," Matt Kaufman, Vice President of Sales said. "The changes we've seen since 2020 have inspired us to create more digital content and develop multiple learning options for our dealers. Our goal with our Show is to offer best in class resources to set our dealers up for success in the new year."
The In-Person event is hosted this year on January 27, 2022, in Cleveland, Ohio, at the Hilton Cleveland Downtown with an After-Hours Event at the Rock & Roll Hall of Fame. Visitors for the In-Person Event will have access to representatives from over 60 manufacturers, live trainings, and $5,000 in prizes.
"Palmer-Donavin's Winter Show offers us a chance to show thousands of professional dealers how to get the proper product for the project," said Pat Gallagher, Territory Manager at Digger Specialties. "Having the opportunity to show contractors and dealers our newer unique products to include:  Pre-assembled Vertical Cable Rail, Screen Rail systems, and Column wraps in 5 designs are all major pluses as we head into the 2022 Building season."
Along with the In-Person Event, Palmer-Donavin is proud to offer an Online Training for the second year. Josh Thompson, Vice President of Marketing at Palmer-Donavin, shared, "We learned a lot last year when we moved our normal In-Person Show to solely a Virtual Experience. We were able to use what we learned from last year's event to make the Online Training so much more impactful this year. We continue to set high standards for how this event brings people together. We value how it allows all to build their relationships and set our partnerships with manufacturer and dealers up for future success."
The Online Training went live today, and dealers have access to over 40 training sessions, resources from over 20 manufacturers, and $5,000 in prizes now through February 4, 2022.
"We are very excited to offer our 2022 Winter Show." Robyn Pollina, CEO at Palmer-Donavin, said. "Offering both the In-Person and Online Training is a great opportunity for our PD Team, our customers, and contractors to interact with our supplier partners' products and people. It's important we continue to gather and build on our relationships. We look forward to seeing everyone in Cleveland later this month."
About Palmer-Donavin
For more than 100 years, Palmer-Donavin has been committed to providing exceptional customer service. A leader in building material distribution and door fabrication, we are built from employee owners who believe in putting in the hard work to earn relationships one order at a time. Our tagline is "We Deliver More™" — products, expertise, and solutions that help our customers succeed. Learn more at palmerdonavin.com. Contact: Jenna Koenig, Digital Marketing Specialist, jenna.koenig@palmerdonavin.com
Back to All