Featured Palmer-Donavin Employee Home Projects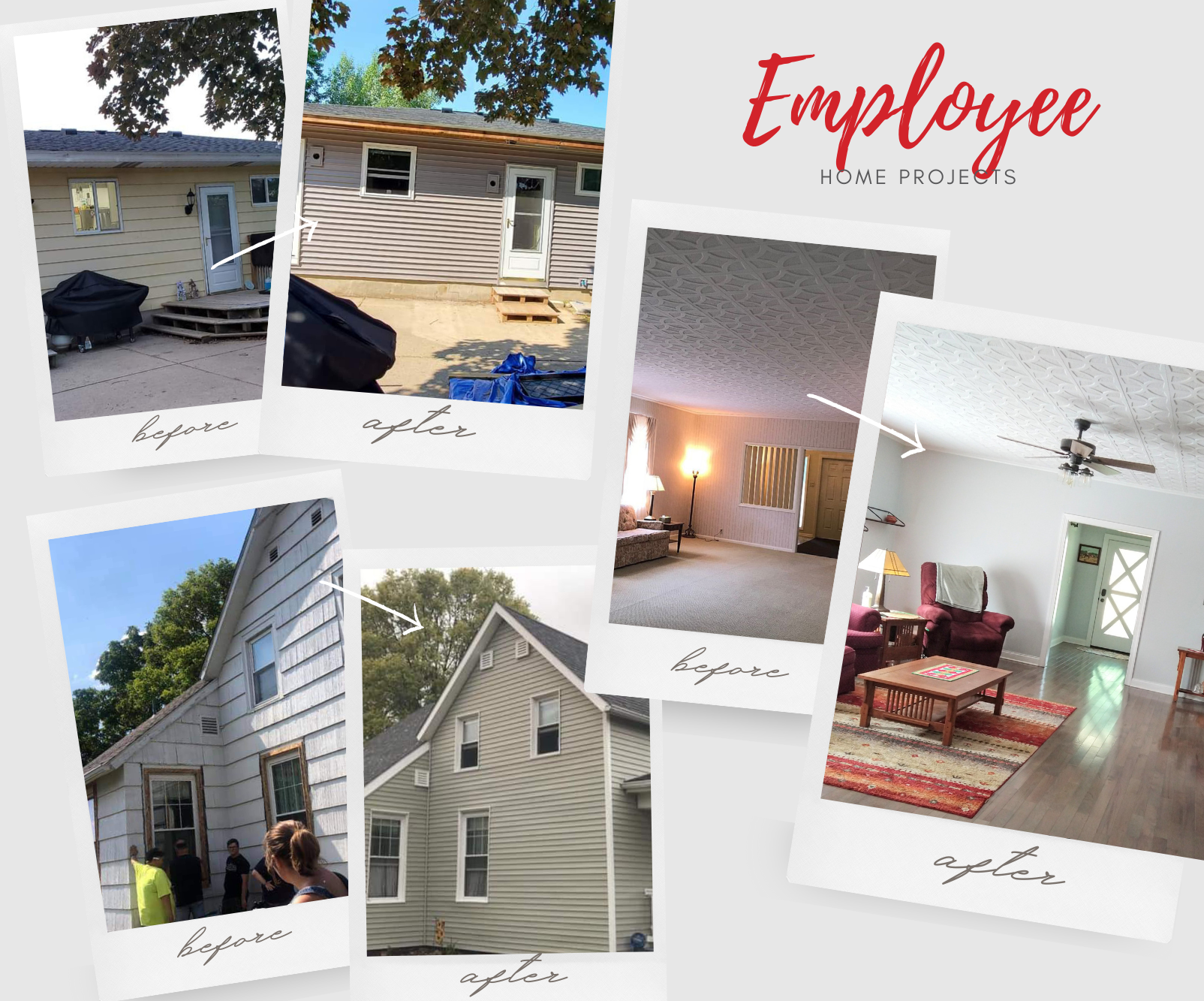 No one is more passionate about our products than our own people, and many are using our products to update or renovate their own homes. Many times, our team is asked, "What would you use?", so we wanted to share a series of our teams' home projects that feature products we offer. Though everyone has varied budgets and different home styles, we thought you might like to see what products our employees would trust using on their own homes. Projects range from size and type, so we wanted to dedicate this article to the larger projects that included exterior products.
Whole Home Makeover
Chad Fuller | Service Technician
Chad Fuller, our Service Technician based out of our Lansing, Michigan branch, shared a major home project he and his wife had been planning for years. Last summer, they were able to determine the products they wanted to use for their whole home makeover to update both the interior and exterior of their home.
Chad said, "We gutted the whole exterior of our house, garage, and shed. We re-insulated, house wrapped, and installed CertainTeed American Legend Double 4" Granite Gray siding on all three buildings. We liked the color and woodgrain texture on our friend's home and when we looked into the durability and pricing, we decided it was what we wanted, too."
The couple also replaced all 7 windows in the house with Wincore Low-E windows. Chad added, "We both were looking for a good window we would not have to replace in a couple of years or so. I also asked around internally and our PD Representatives suggested Wincore." The couple decided on Low-E windows for energy efficiency.
The couple also renovated their kitchen and removed the old cabinets and flooring. They replaced the cabinets with Woodward Shaker Style in Classic Snow. Chad said, "My wife knew she wanted the self-closing hinges. Then, when it came to color, I wanted darker, but ultimately, we went with the white to keep the space airy and bright."
For the floors, the couple chose Happy Feet Extreme Elegance Weathered Pine flooring (HF669T). Chad shared, "The reclaimed pine extreme flooring was something I knew I liked. I kept seeing the reclaimed wood look and I knew the texture and color would look great. The color also matches great with everything in our kitchen now. I'm thinking of buying more and doing the whole house in that color and style flooring."
Funeral Home to Farmhouse
Nancy Nichols | Customer Service Representative
Our Customer Service Representative, Nancy Nichols, from our Hebron, Ohio location, renovated a space that didn't have a traditional home layout. Nancy said, "When we bought our house, it was previously used as a funeral home with only three rooms and a single hallway." Since the property did not have a kitchen, the couple created one near the back of the home and used beautiful custom cabinets by Kitchen Kompact. Nancy added, "I got one of the new lines that they just came out with. I must say, they have really held up well. They are white so that is saying something. They were a great buy that fit my budget."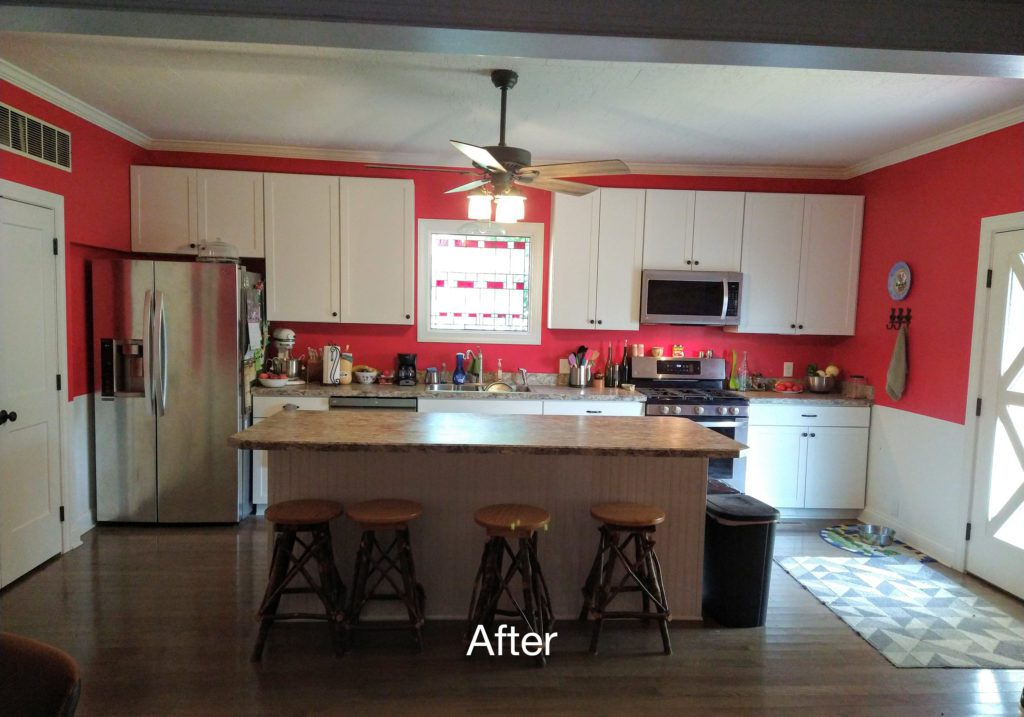 Nancy had a custom window made for above the sink. Then, off the kitchen she installed a new back door that was custom fabricated by Palmer-Donavin in the same location where Nancy works. She added the same Therma-Tru Door Classic Craft American (Style CCA4930) to the front of her home. The trending farmhouse chic "double x" door is a showstopper in her neighborhood.
The floor was previously carpeted, but needed an update, so Nancy and her husband decided to lay Somerset Color Collection ¾" Red Oak Smoke hardwood flooring (Style PS31418) throughout the home. Nancy shared, "It is a beautiful product but ultimately, I think I was a better candidate for engineered flooring or Happy Feet. Over time, the traditional hardwood is developing markings from the dogs."
Pandemic Project
Trent Gossett | Customer Service Representative
Trent's daughter opted to buy a home and renovate it during the summer of 2020, and it quickly became their pandemic project. The quickest way to improve a home's curb appeal, while also making it more maintenance-free, is to install a great siding material. "We opted for Ply Gem Progressions D4 Olive siding," Trent said. "We then trimmed the home with white AZEK trim boards and used Ply Gem vents and siding blocks."
To continue updating the curb appeal, they looked to the porch. "To update the look and feel of the porch ceiling, we used AZEK Beadboard to make it look as close to the original appearance already there." Trent then used more AZEK Trim Boards to trim out the front porch, for use as fascia boards, and to replace rotting lumber from around the windows.  
Trent recalls the installation being very easy when having the right tools and some basic installation knowledge. He shared, "Of course, if you don't know how to install a product, there are many online tools to help you learn along the way. If I could offer one piece of advice for anyone looking to make any kind of home improvement, it would be to make sure you do your research. Not only on the products being used, but also on any contractor who is doing the work if not yourself."
We are impressed with the number of projects our employees have completed at their homes using the products we sell. While the projects shown above included whole home exterior or interior projects, we know simple updates can make a big impact, too. In an upcoming article, we will feature more home renovations to give users inspiration and ideas on which products our team would recommend. If you have any questions about your project, contact us here and we'll be happy to help.
Back to All