Sustainable Building Materials: A Guide to Eco-Friendly Roofing, Siding, and Trim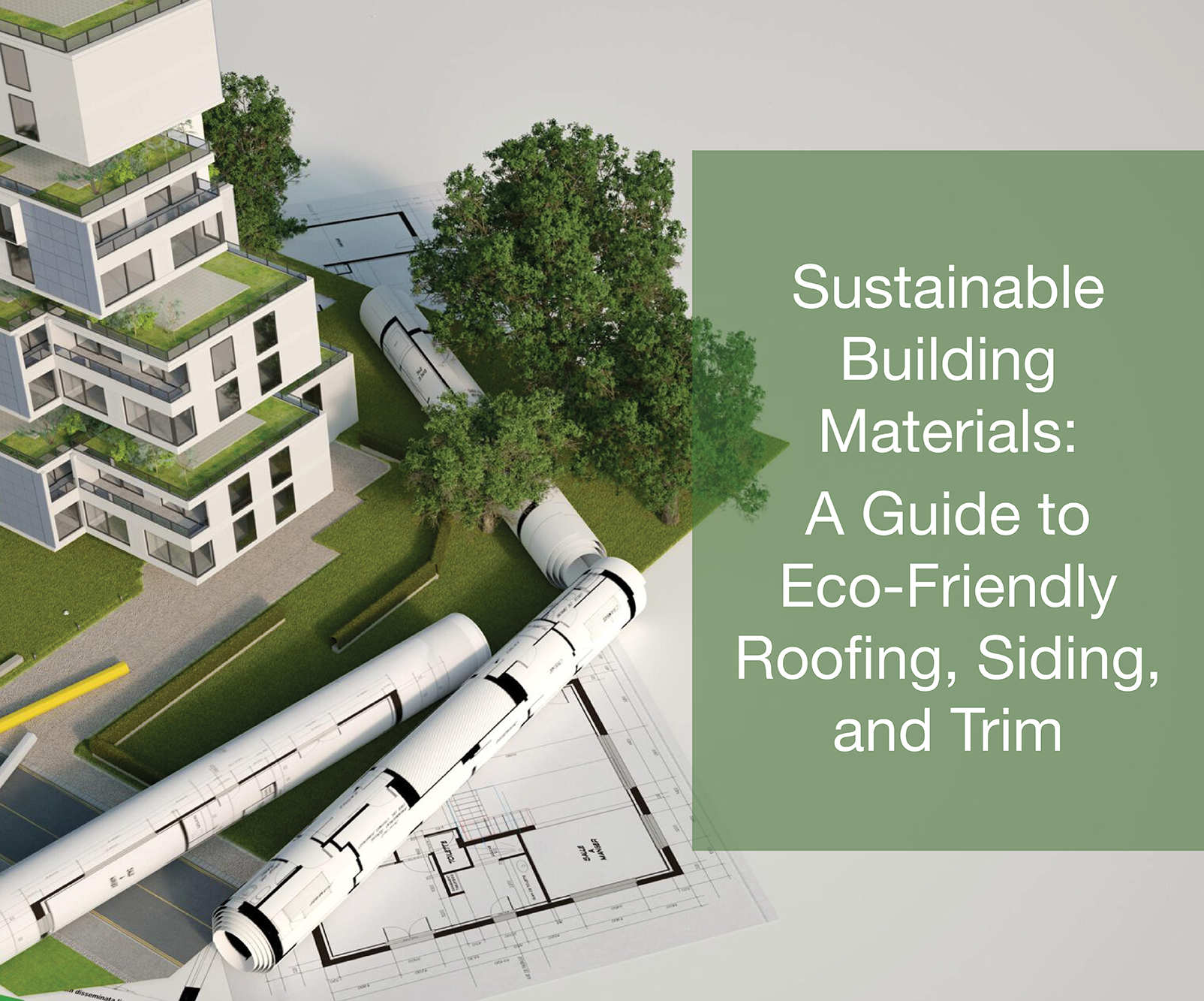 As we become increasingly aware of the impact that building products have on the environment, there is a growing trend towards using sustainable building materials. Not only do these materials help reduce the carbon footprint of a building, but they are also often more durable, energy-efficient, and cost-effective in the long run. Here are our top four exterior building products that have notable sustainability plans.
Roofing
An important part of a home or building's exterior is the roof. While we have a long-standing history of offering roofing products, we are excited to share we offer Malarkey Roofing Products who has made it their goal to simply make the best shingles in the most sustainable way.
The company invented a cleaner, longer-lasting shingle technology known as polymer modified (rubberized) asphalt. They created a manufacturing process to upcycle tires and plastic and use them in their shingles. It is incredible that to date, they have kept approximately 5.5 million rubber tires from the landfill by incorporating upcycled rubber into their shingles. Additionally, they have kept 3.7 billion plastic bags from the landfill by incorporating upcycled plastic into their shingles.
Our long-standing manufacturer partner, Owens Corning, shared that for them, sustainability is about meeting the needs of the present while leaving the world a better place for the future. Sustainability is at the heart of their business; from the products they make to the way they make them.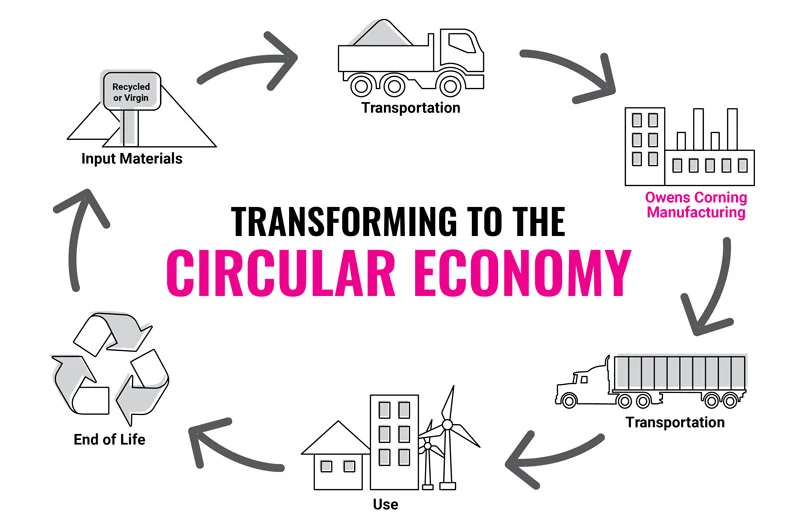 The world has used a linear model of production — taking raw materials, making products, and discarding those products at the end of their use. As resources grow increasingly scarce, it has ceased to be a viable way to conduct operations. Transitioning to the circular economy is also a path to decarbonization. For example, eliminating the need to extract virgin raw materials reduces the greenhouse gas emissions associated with mining, processing, and transporting those materials.
These are the objectives essential to the circular economy:
Avoid the use of virgin raw materials whenever possible.
Source materials and serve customers in ways that minimize transportation and its impact.
Manufacture products in ways that reduce the amount of waste generated and ensure the least negative environmental impact.
Ensure that materials used in products and packaging remain in the economy indefinitely.
Siding and Trim
AZEK Building Products is a manufacturer partner that continues to be reputable for doing the right thing and creating products made from recycled materials. The company created an ambitious sustainability program called Full-Circle. Their objective is to use 1 billion pounds of recycled material, annually, in the manufacturing of their products by 2026.
A newer partner, RISE Building Products, is also addressing the challenge of our global community. They are a participant of the circular economy, and created a patented approach toward manufacturing. RISE® Technology allows them to create their durable wood replacement products that look and feel like real wood and helps sustain our environment.
RISE Composite Technologies is now one of the largest users of post-consumer and post-industrial synthetic fiber, and polymer waste, in the U.S. RISE works with state and industry partners to source these materials for our patented new approach toward manufacturing. The result is long-term durable synthetic wood replacement products that look and feel just like real wood, and that help sustain our environment. 94% of RISE Siding, and RISE Trim, is made from synthetic fibers and polymer wastes, which contributes to the removal of millions of pounds of these materials from landfills.
At Palmer-Donavin, we will continue to search for sustainable products to distribute. Josh Thompson, Vice President of Product Management at Palmer-Donavin, shared, "Manufacturers are making sustainability part of their value proposition, and that is something we look for in new products because it is important to today's consumers." Please contact us if you have any questions about the products we offer.
Back to All