TORLYS Flooring | Not your Grandma's Laminate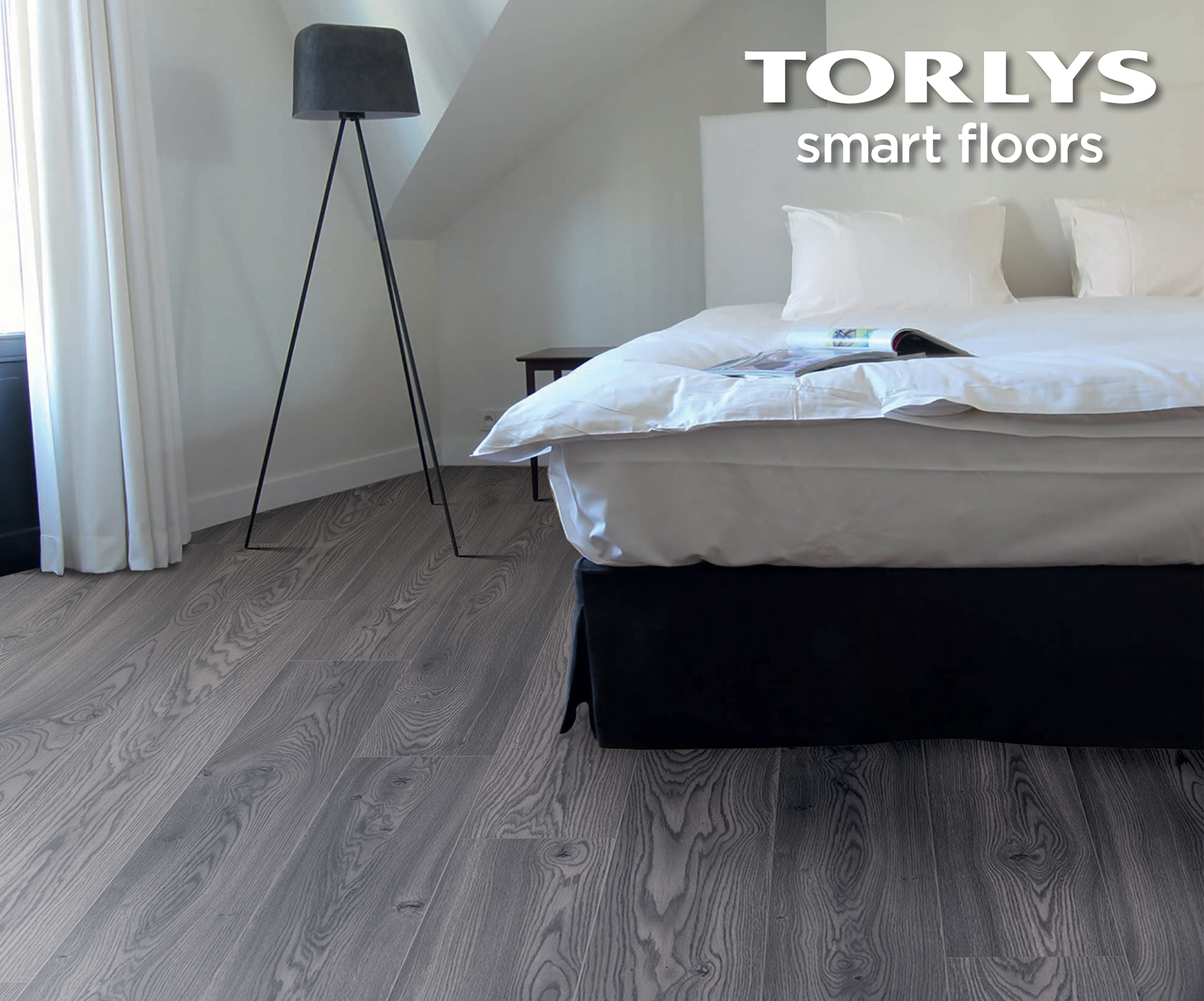 If you are looking at new flooring options, take another look at laminate. We know you might be imagining the laminate with a square tile pattern that looks and feels like plastic. While we remember that too, we also know how it has changed over the years. You can now expect more from laminate because it is not your grandma's laminate anymore.
Improved Design
There was a time when we thought laminate had run its course, but with advanced engineering and manufacturing improvements, it is a good flooring option and becoming increasingly competitive to LVT and hardwood products. Laminate flooring by TORLYS Smart Floors Laminate is made differently than laminate in the past. Dave Buck, Flooring Sales Manager at Palmer-Donavin, said, "We are now seeing indentations and texturing that mimic natural wood grains that exactly match the image layer of the plank, so it looks much more authentic."
JF Pelletier, Director of Product Innovation at TORLYS, said, "Thanks to tremendous advancement in technology, TORLYS Smart Laminates resemble real hardwood flooring more closely than ever before. One of the game changers in laminate is our authentic EIR (Embossed in Registered) texture which creates the appearance of wood grain, like real hardwood. This manufacturing evolution intensifies the texture, depth, and appearance of our laminate flooring bringing it one step closer to the appearance of real hardwood."
The new design is made from multiple layers including fiberboard, a pattern layer, and a transparent wear layer. Depending on the wear layer, it is more scratch resistant than some of the other LVT options. Laminate flooring has wear ratings that can help you choose the right flooring for your space based on expected durability and longevity:
AC1: Home use for areas such as bathrooms that receive less foot traffic
AC2: Home use for areas with medium foot traffic like family room
AC3: Home use for high foot traffic areas like kitchens
AC4: Home and some commercial use in all home traffic areas and some commercial areas
AC5: Commercial use for heavy commercial traffic
Palmer-Donavin is stocking the Rivera Collection by TORLYS. It is made in Europe; each panel measures 12mm x 7 9/16" x 49 5/8" and holds an AC5 rated wear layer. It is strong enough to withstand any home's traffic and wear from kids. This luxury collection is also waterproof thanks to a combination of the Uniclic® joint and Aqua Protect edge coating, which keeps water from penetrating the floor's core. The product is fully waterproof when installed with a perimeter seal. With Palmer-Donavin, you have access to all eight colors in the collection.

The Rivera Collection is made with popular wide planks with EIR finishes for an authentic look. Unlike many other laminate manufacturers, TORLYS backs their product with industry-leading warranties that include a Lifetime Residential Warranty and a 15-Year Commercial Limited Warranty.
Installation is a Breeze
TORLYS floors are manufactured to the strictest standards and with unique features and benefits, for fast and easy installation. "You may remember you had to break them with transitions in doorways or in runs that were greater than 30 ft. x 30 ft. areas," said Dave Buck. "With this new laminate, you can install up to a 50 ft. x 50 ft. area with no transitions and can run room to room without T-molds and transitions."
Thanks to Uniclic® joint technology, your floor simply clicks together. TORLYS floors are easy to install, easy to repair and easy to reuse. The only tools you will need to install this laminate flooring include a hammer, tape measure, pencil, saw (any type, from table saw to a hand saw), and a TORLYS Installation Kit.
Economical and Quick
The demand for laminate is growing and it may be due to its more authentic look, economical pricing, and lower lead times. Not only is the cost of the product likely lower than competitive products, you will also see savings with installation time and costs, since the labor to install this product will be exceptionally less than luxury vinyl and hardwood flooring.
Showroom Ready
Dealers, are you ready to add it to your showroom? We have a Rivera Collection Step Display Option available through your Outside Sales Representative. The display shows beauty images of the installed floor and large hand samples of the flooring for customers to see and feel the texture. You can also preview the Rivera Collection in your home or in a selected scene with the TORLYS Visualizer tool.
While we love the nostalgia of grandma's home, we know you will love the new style and feel of TORLYS laminate flooring much more than what you remember from the past. The Rivera Collection is available in a variety of on-trend colors to appeal to all style preferences and is made with an authentic look that more closely resembles hardwood. Installation is easier with minimal transitions; it is durable with its commercial grade wear layers and built with fade and stain resistance properties. If you have any questions about the product or would like to learn more, please contact us or connect with Dave Buck, Flooring Sales Manager at Palmer-Donavin, at dave.buck@palmerdonavin.com.
Back to All