Unlocking Three Lite Options for Therma-Tru Doors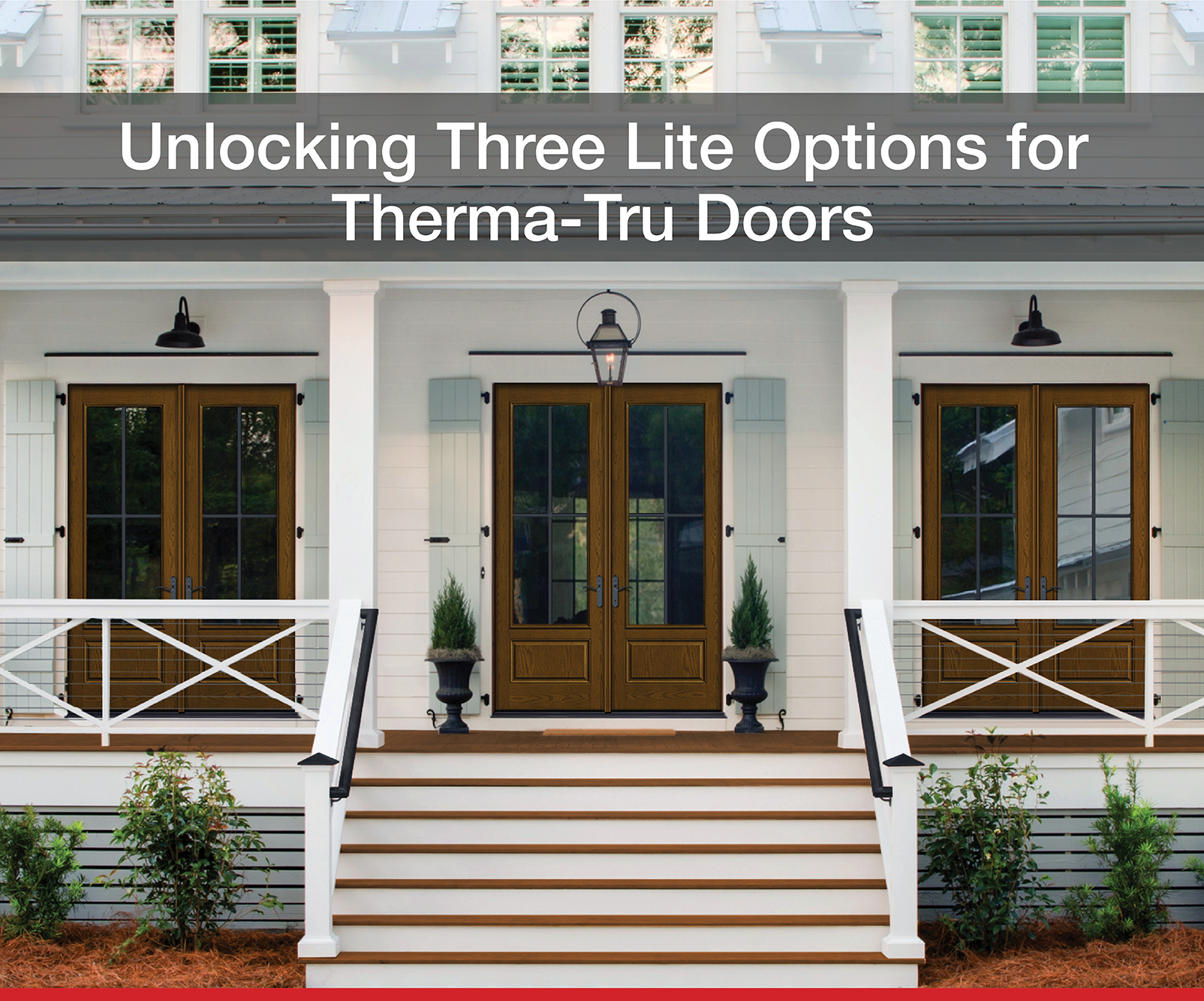 When it comes to selecting the right door for your home, you want something that not only offers security and durability but also adds a touch of elegance and curb appeal. Therma-Tru, a leading manufacturer of fiberglass exterior doors, has an extensive range of door options. There are also three lite frame styles that stand out for their unique features – the Scroll Lite Frame, Advanta Lite Frame, and EnLiten Flush-Glazed option. In this article, we will explore the differences between these three lite frame options to help you decide which style is best for your entryway.
Scroll Lite Frame | Timeless Elegance
The Scroll Lite Frame is a timeless classic, suitable for a wide range of architectural styles, from traditional to colonial. What sets this style apart is its decorative scrollwork, which gives it a sense of classic sophistication.
One of the features of the Scroll Lite Frame is the detailing that surrounds the glass panels. These decorative scrolls and patterns remind us of the craftsmanship seen in vintage doors and add a touch of charm to your home's exterior. This design choice is perfect for homeowners who appreciate the beauty of classic architecture and want to create an inviting and warm entryway.
The scrolls are not just for aesthetics, they also serve a functional purpose. During the fabrication process, the glass is installed into the door and the Scroll Lite Frame surrounds the lite and holds it in place with screws. While the screws are covered with lite plugs, the look of them can be not as discreet as some homeowners would like. The frame also covers some of the glass, where the sunlight can be inhibited. The Scroll Lite Frame is a traditional option and great for those looking for a charming feature, although we are seeing a growing popularity with options with a more sleek design.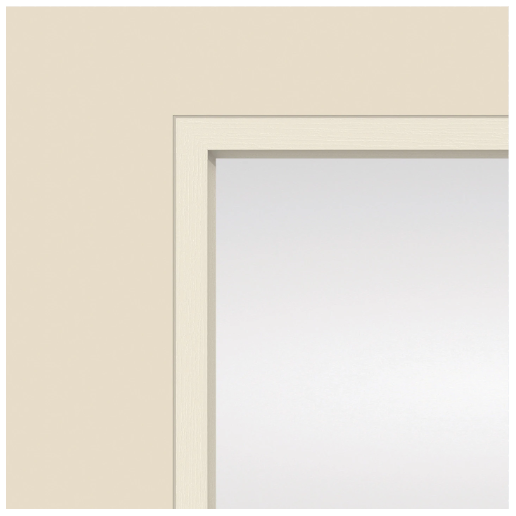 AdvantaTM Lite Frame | Classic with a Modern Update
The Advanta Lite Frame is a new frame option that provides an innovative, plugless solution that is an excellent choice for homeowners who want a contemporary and sophisticated entryway. This style features clean lines and a minimalist design, which are perfect for homes with a modern architectural style. The Advanta Lite Frame is characterized by its seamless look without unsightly screw plugs. It's available in select glass sizes in Fiber-Classic, Smooth-Star, Profiles, and Traditions doors, including all decorative and privacy glass and some specialty and clear glass options.
This lite frame is noted for its ease of assembly and minimal risk to the glass and door construction. The finished frame cover can be removed and reused if the glass needs replaced for any reason, or you decide to change the glass style in the future. This new lite frame is included in Therma-Tru's comprehensive lifetime limited warranty for fiberglass doors and sidelites, and a 10-year limited warranty for steel doors and sidelites.
Therma-Tru's Advanta Lite Frame is not only visually appealing but also practical. The glass used in this design is energy-efficient, ensuring that your home remains well-insulated and comfortable throughout the year. Additionally, the glass is tough and durable, providing the security and protection your home needs.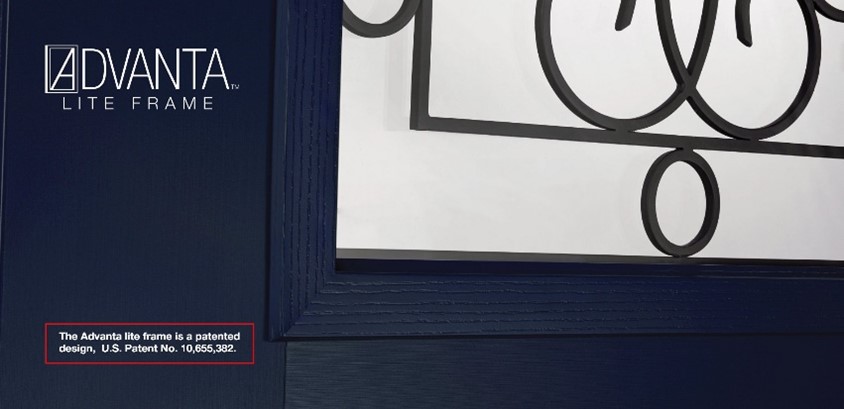 Quick Facts:
Available for a wide variety of glass options: Decorative Glass, Privacy & Textured, Internal Blinds, Divided Lites, Clear / Low-E. Although glass options vary by size.
Choose from all decorative and privacy glass designs or a selection of specialty and clear glass options for Fiber-Classic®, Smooth-Star®, ProfilesTM, Traditions and Pulse® doors.
Select a scrolled or flat lite frame to find the perfect look for your home.
The lite frame can be stained or painted any color to complement the door.
The white Advanta lite frame is color-matched to PrismaGuard® Alpine and does not require finishing if white is the desired look.
Frame cover can be finished separately to eliminate unsightly behind-frame paint or stain weep.
Manufactured using a high-performance material that resists warping, rotting and discoloration.

EnLiten Flush-Glazed | Modern with Maximum Views
For homeowners who appreciate modern design but want an even more polished and refined look than the Advanta Lite Frame, Therma-Tru offers the EnLiten Flush-Glazed style. This style is characterized by its sleek and contemporary appearance with clean lines and a flush glass-to-frame transition.
One of the main differences between the Flush-Glazed Glass and the other lite frames is the way the glass is integrated into the door. In the Flush-Glazed Glass design, the glass panel is set directly into the door without a raised frame or mullion. This creates a seamless, flush appearance.
EnLiten flush-glazed designs allow you to create an airy, open feeling in the home with larger daylight openings. They offer up to a 16% increase in visible glass area as compared to conventional lite frames. Additionally, the Low-E glass used in these doors is 11% more energy efficient than the ½" Low-E glass in a lip-lite frame.
Since the triple-pane glass is built directly into the door with a high-performance dual adhesive weather seal, this reduces the potential for air and water infiltration. It dampens outside noises compared to a lip-lite alternative, and they are designed and tested to withstand winds up to 167 mph. View EnLiten flush-glazed designs and learn more about its construction.
Therma-Tru doors are renowned for their exceptional quality and design, and the Advanta Lite Frame, Standard Scroll Lite Frame, and Flush-Glazed Glass styles are no exception. Each of these glass styles caters to different tastes, architectural styles, and functional needs.
The Scroll Lite Frame offers timeless elegance with its intricate decorative detailing, making it perfect for those who love classic and traditional aesthetics. The Advanta Lite Frame appeals to those who appreciate a traditional or modern aesthetic, without the lite plugs in sight. Lastly, EnLiten Flush-Glazed options allows for more light, added durability, and has a modern design with its built-in construction. The choice of glass style for your Therma-Tru door depends on your personal preferences, your home's architectural style, and the atmosphere you want to create. No matter your choice, you can be confident you will receive a beautiful entryway that will keep up with your lifestyle and leave a lasting impression on your guests. Contact us today for more information on exterior door styles.
Back to All