Palmer-Donavin Announces Manufacturer Partner and Manufacturer Representative of the Year Awards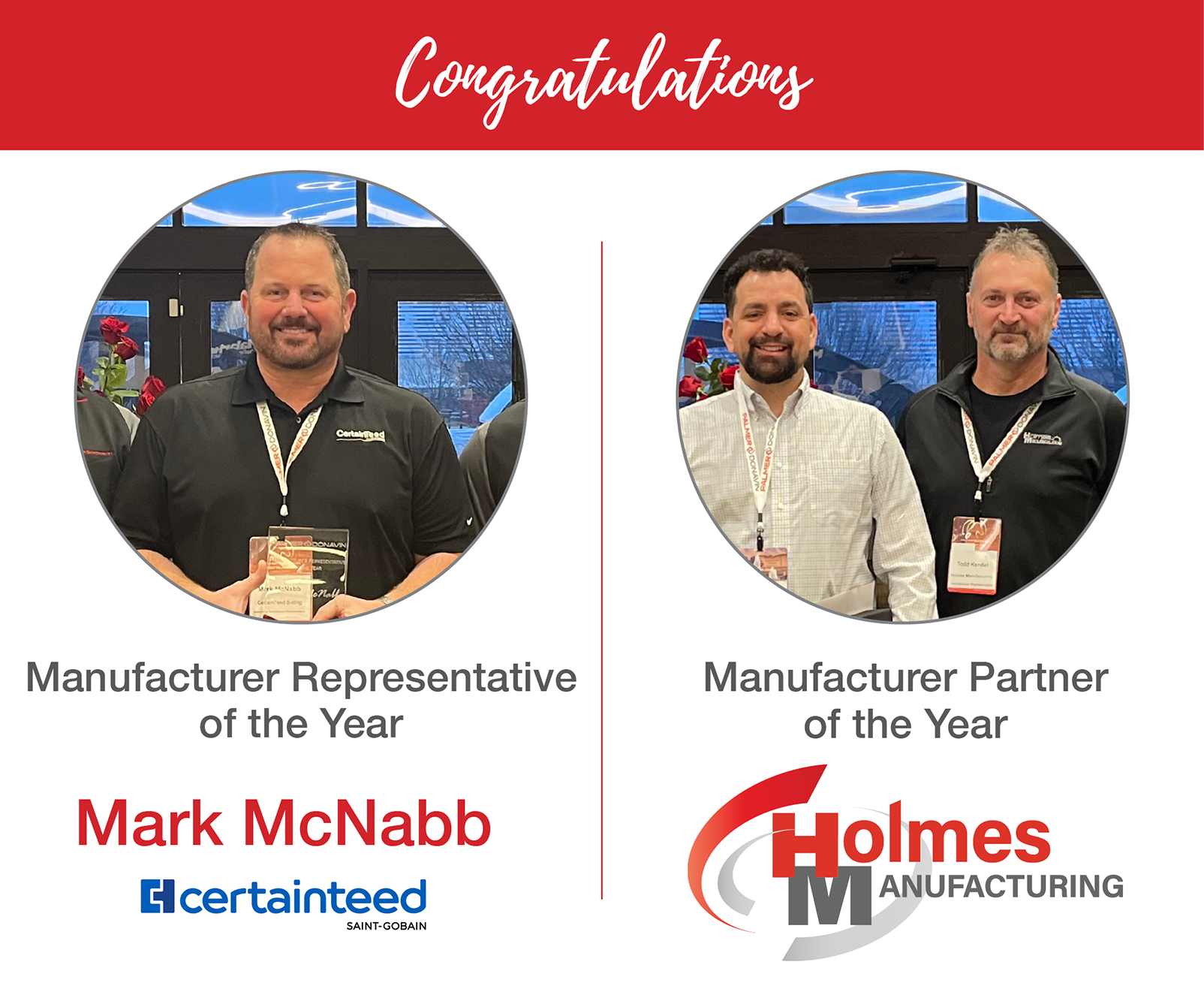 Columbus, Ohio, January 30, 2023 | Palmer-Donavin is proud to announce Holmes Manufacturing is the Manufacturer Partner of the Year and Mark McNabb, of CertainTeed, has been awarded Manufacturer Representative of the Year for 2022.
Palmer-Donavin partners with respected names in the building materials industry, and while support is received in various ways, Holmes Manufacturing stood out among their peers. "Holmes has gone above and beyond to accommodate Palmer-Donavin," shared Kate Queen, Product Manager at Palmer-Donavin. "From adjusting their product offering to help us move away from other suppliers, to creating custom products for our customers, Holmes has made it a priority to ensure our partnership is the best it can be."
Josh Thompson, Vice President of Product Management at Palmer-Donavin, added, "Holmes Manufacturing did a great job of partnering with us. They offered new products to stock and were creative in their ways to help our joint customers. Our sales reflect their efforts, with an increase of 70% in their product category in 2022."
The year was challenging with price increases and supply chain issues, and timely communication is always critical. Palmer-Donavin found Mark McNabb, Senior Territory Manager at CertainTeed, to be responsive and considerably supportive, making him the Manufacturer Representative of the Year award recipient for the second consecutive year.
"This award is very well deserved," said Kerry Gibbs, Outside Sales Representative at Palmer-Donavin. "Mark is always available for our team. He is responsive, reliable, and will always find a way to give us an answer to a question we have. We know we can trust he will help us, and that is invaluable."
Members of the Holmes Manufacturing team and Mark McNabb from CertainTeed received their awards Thursday, January 26, at the Palmer-Donavin 2023 Winter Show. The Show was hosted in Louisville, Kentucky at The Galt House with an event proceeding the Show at the Kentucky Derby Museum sponsored by Owens Corning.
About Palmer-Donavin
For more than 100 years, Palmer-Donavin has been committed to providing exceptional customer service. A leader in building material distribution and door fabrication, we are built from employee owners who believe in putting in the hard work to earn relationships one order at a time. Our tagline is "We Deliver More" — products, expertise, and solutions that help our customers succeed. Learn more at palmerdonavin.com. Contact: Jenna Koenig, Digital Marketing Specialist, jenna.koenig@palmerdonavin.com
Back to All