Board and Batten Options Everyone is Talking About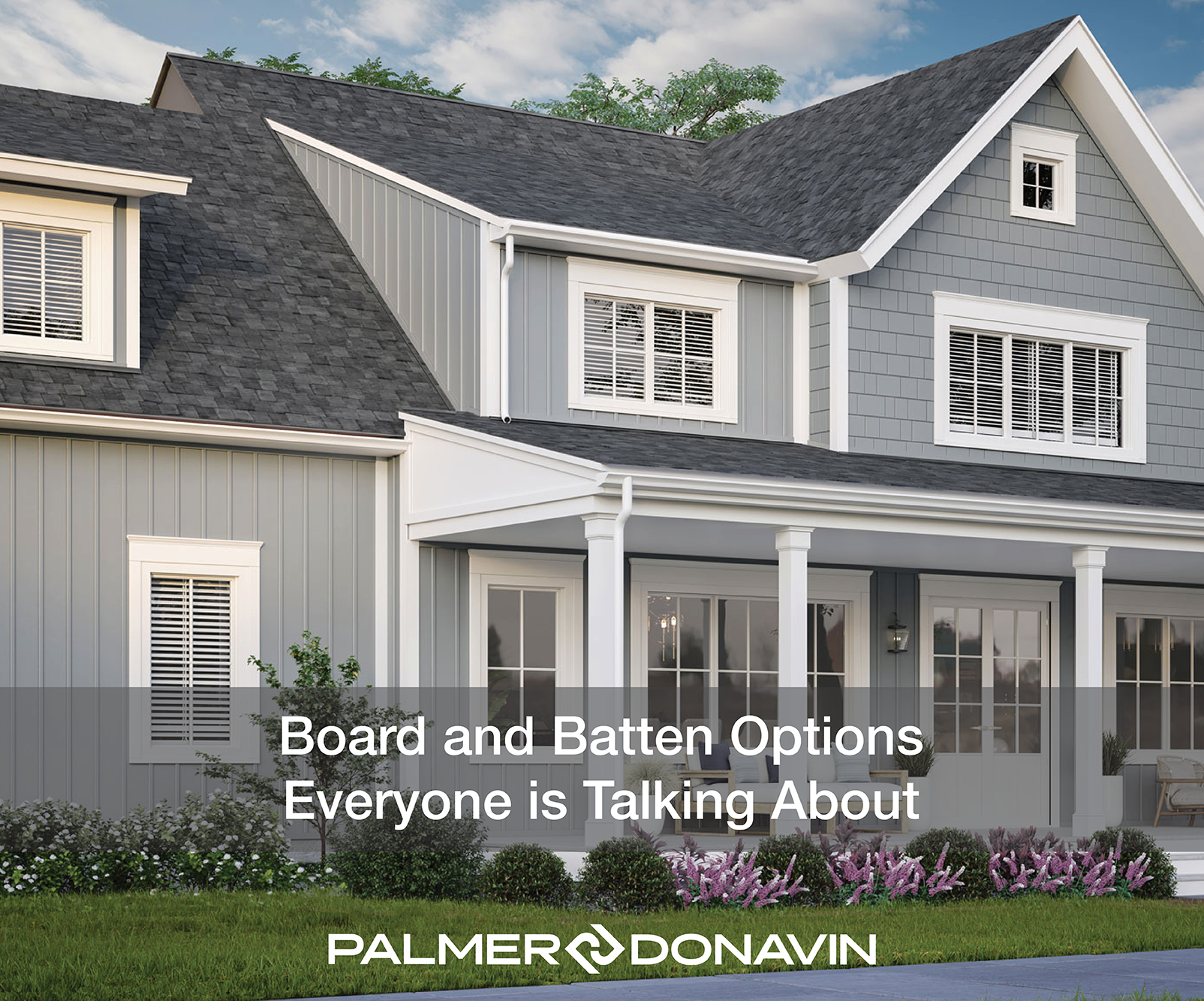 Board and batten is a style of siding that has been around for centuries, but it has recently seen new growth in popularity as a design trend. This distinctive pattern of alternating wide and narrow strips can add texture and add a modern feel to a traditional home or used to create a rustic or modern farmhouse. If you're in the market for this product, or you have customers asking for it, we asked some of the experts in the industry and created a list of board and batten options you won't want to miss.
First, we went to our Product Manager, and board and batten category expert, Jessica Morton. "Board and batten is beautiful as an accent to add texture or a whole-house application," she said. "The clean lines add a rich contemporary feel with stunning curb appeal. It's available from Palmer-Donavin in a variety of sizes, thicknesses, and colors from several brands. We continue to look at board and batten options because, as a category, it has grown over 250% over the last few years." Here are some of current options to note.
Meet EDCO, our New Steel Board and Batten
EDCO Products' steel board and batten features a natural look with the Enduragrain texture, and paint technology that will not chip, crack or peel. Many use this product to also reduce energy costs. It's all backed by a 35-year fade and 50-year hail protection, in addition to its lifetime warranty, for a consistent finish for many years to come. We are now stocking 7 colors of 12" Board & Batten in Steel from EDCO.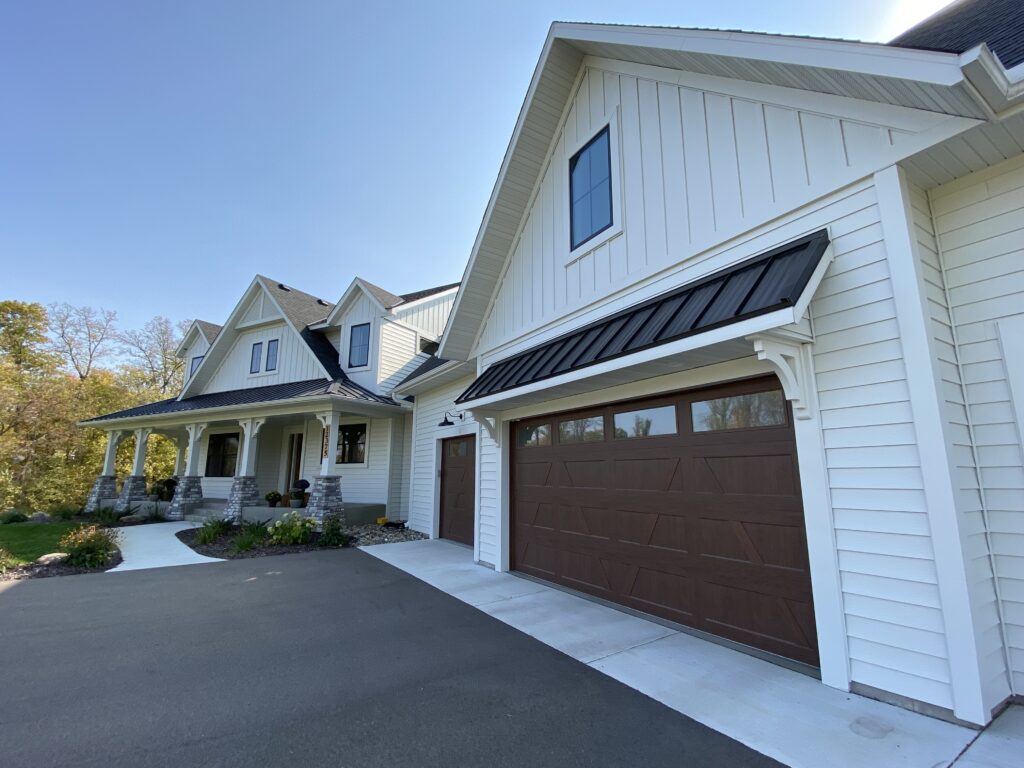 Discover the All New Celect® 11" Board and Batten
Westlake Royal Building Products™ offers board and batten siding options at every price point, made from vinyl, cellular PVC, poly-ash or aluminum, so you can find the perfect fit for your needs and budget. Today, we want to feature their new Celect® 11" Board & Batten siding.
Kriss Swint, Director of Marketing Communications at Royal Building Products, shared, "This new siding will add visual interest to home exterior projects with its vertical pattern and wider profile, designed for larger homes. It replicates the beauty and aesthetics of wood but remains a low maintenance and durable product for a lifetime. There is an interlocking seam design, which keeps moisture out and almost eliminates the seams."
All Celect products are backed by a limited lifetime and 25-year color-protection warranty, have a wind resistance of over 210 mph, use Kynar® Aquatec coating for superstar UV protection that reduces energy demands, and resist dirt, seasonal staining, and insects.
Swint added, "This design will accentuate different sections of the house, including full walls, gables, and bump-outs. It's easy to install via a one-piece application that will fit with any Celect trim and mouldings or siding product and is available in all 15 fade resistant colors, as well as in Celect Canvas, ready to paint."
View a Popular Classic and an Exclusive Reverse Board and Batten by CertainTeed
Overall, the board and batten trend is a great way to add visual interest and depth to a space, whether you're going for a traditional or modern look. It's a timeless option that works for a variety of architectural styles. Jessica Morton of Palmer-Donavin, shared, "CertainTeed board and batten is among the most popular options we offer. Specifically, the 7" is among the top selling products, but 8" Colonial White is currently the #1 board and batten product we sell. While white is our top selling color, making up about 45% of our total board and batten sales, we are seeing darker colors like Tuxedo and Smoky Gray now trending into the top 10 colors."
Mark McNabb, of CertainTeed shared, "While we offer the traditional board and batten product, we are the only vinyl manufacturer offering the Reverse Board and Batten product." Reverse Board and Batten Reinforced Siding is a unique profile that can be used alone or with a combination of other siding styles on the home. The narrow boards and wide battens offer a rustic appearance that could only be achieved with real wood in the past. Reverse Board & Batten siding is lighter, easier to handle, and more weather-resistant than real wood, fiber cement and wood composite siding. It has the low cost to install of vinyl siding and a Lifetime Limited Warranty.
Stock CertainTeed Products
7" | Colonial White, Charcoal Gray, Flagstone, Granite Gray, Natural Clay, Pacific Blue, and Sterling Gray
8" | Colonial White
12" | Colonial White
See the Strength of Exterior Portfolio Insulated Board and Batten
Exterior Portfolio board and batten D10 insulated siding is currently ranked at #3 in our lineup. Exterior Portfolio offers insulated board and batten which means it offers strength with a 2.2 R-value. Morton added, "This product makes up just under half of our total sales, and with its strength, we can see why it is a big seller. Another big selling feature is that these vinyl panels never need to be painted. They offer simple, clean lines with big design impact. Board and batten can be used on almost any style of home, very versatile."
Stock Exterior Portfolio Products
7" | Aspen White, Carbon, Indigo, Sales, Metropolitan Gray, Greystone, Regatta
10" | Aspen White
Learn About the Sustainable Option from RISE
"RISE Board & Batten is a newer product for us," Morton shared. "It is available in a 4×10 sheet and batten strips measuring at 1'x3"x13'4". There are two options, white and primed. With primed, the homeowner can paint it in any color to match the home's aesthetic. This product is great because when using the sheets and battens, the installer can customize the effect and can create a specific width of the panel."
With their technology, they've been able to create a synthetic siding product that looks and works like real wood but is much more durable. Sustainability is a key feature to their story. RISE products are made from 94% recycled content. They have been able to contribute to the removal of millions of pounds of materials that would have otherwise been sent to landfills. It's a great option for homeowners to make a difference while building their home.
Board and batten continues to gain popularity with homeowners and designers. We offer many options in this category and carry trending styles in stock. You can find siding resources in our Marketing Portal and test out siding styles on your home using the First Look Visualizer tool. As always, we welcome any questions you have. Please contact our team if you have interest in the siding products we offer.
Back to All