Palmer-Donavin Introduces Engineered Wood Category to Midwest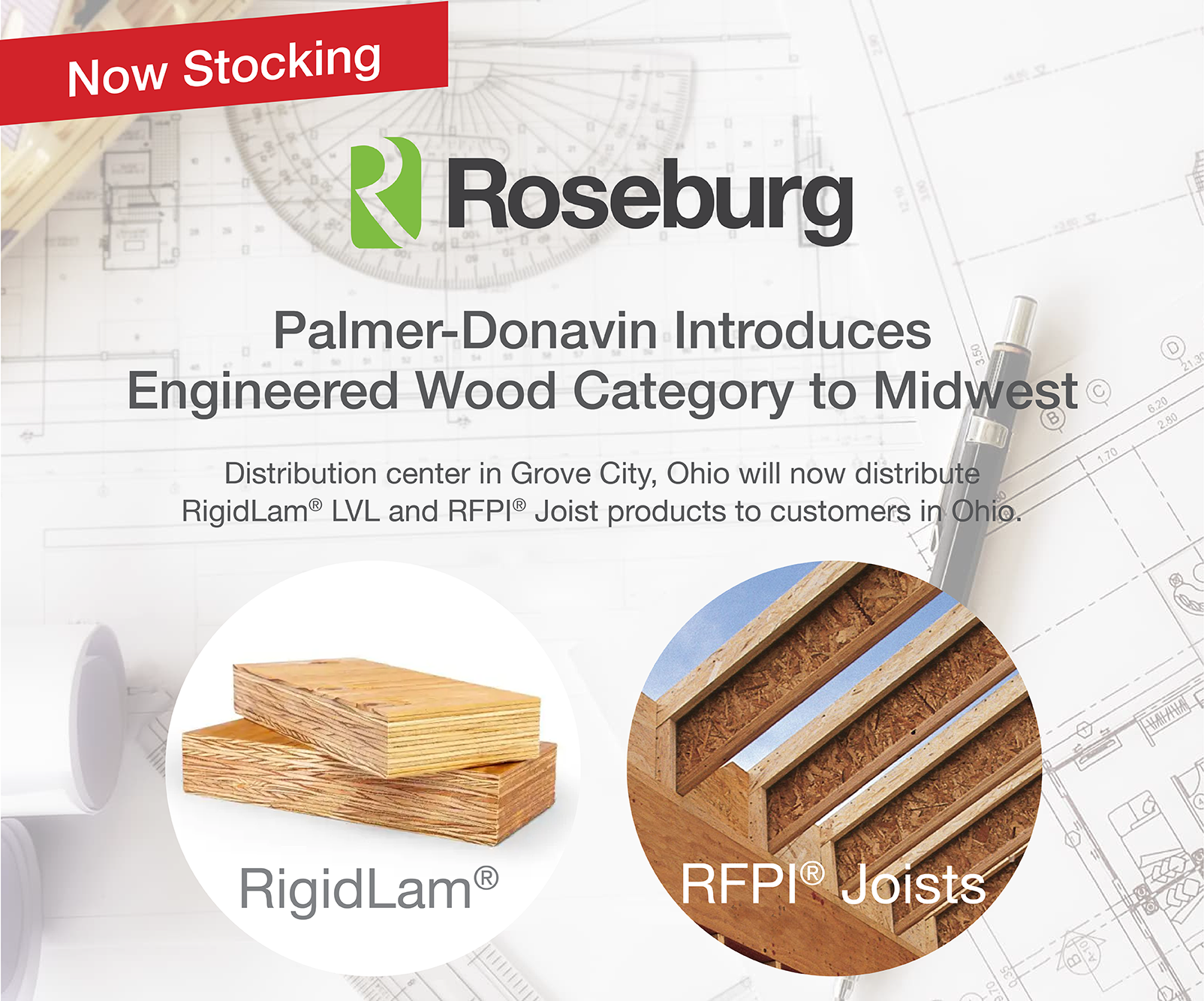 Columbus, Ohio, November 6, 2023 | Palmer-Donavin announced its distribution center in Grove City, Ohio will now distribute RigidLam® LVL and RFPI® Joist products to customers in Ohio.
"Engineered Wood Products (EWP) is a growing category, and we are excited to be a part of it," shared Josh Thompson, Vice President Product Management at Palmer-Donavin. "Our Roseburg partnership came from our recent acquisition of Diamond Hill Plywood. While we distribute EWP from our five locations in the Southeast, we are happy to share Roseburg RigidLam® LVL and RFPI® Joist products are now available in our Grove City, Ohio distribution facility to serve dealers in the state of Ohio.
The company now offers design services, sales support, and developed special trucking with dedicated delivery routes to support the new category.
"Roseburg is very excited for the partnership with Palmer-Donavin," shared Jerry Eidson, Sales Manager at Roseburg. "We are thrilled that Palmer-Donavin chose Roseburg EWP, and we are looking forward to expanding into new territories in the north with this top tier distributor."
Brad Smith, EWP Sales Manager at Palmer-Donavin, said, "This category and Roseburg Forest products are perfect for Palmer-Donavin as it pairs well with our customer-focused, high-service business model. We are excited to offer EWP to our customer base and look forward to setting the standard in our new adventure."
About Palmer-Donavin
For more than 100 years, Palmer-Donavin has been committed to providing exceptional customer service. A leader in building material distribution and door fabrication, we are built from employee owners who believe in putting in the hard work to earn relationships one order at a time. Our tagline is "We Deliver More®" — products, expertise, and solutions that help our customers succeed. Learn more at palmerdonavin.com. Contact: Jenna Koenig, Content Marketing Specialist, jenna.koenig@palmerdonavin.com
Back to All