Exploring Your Trim Options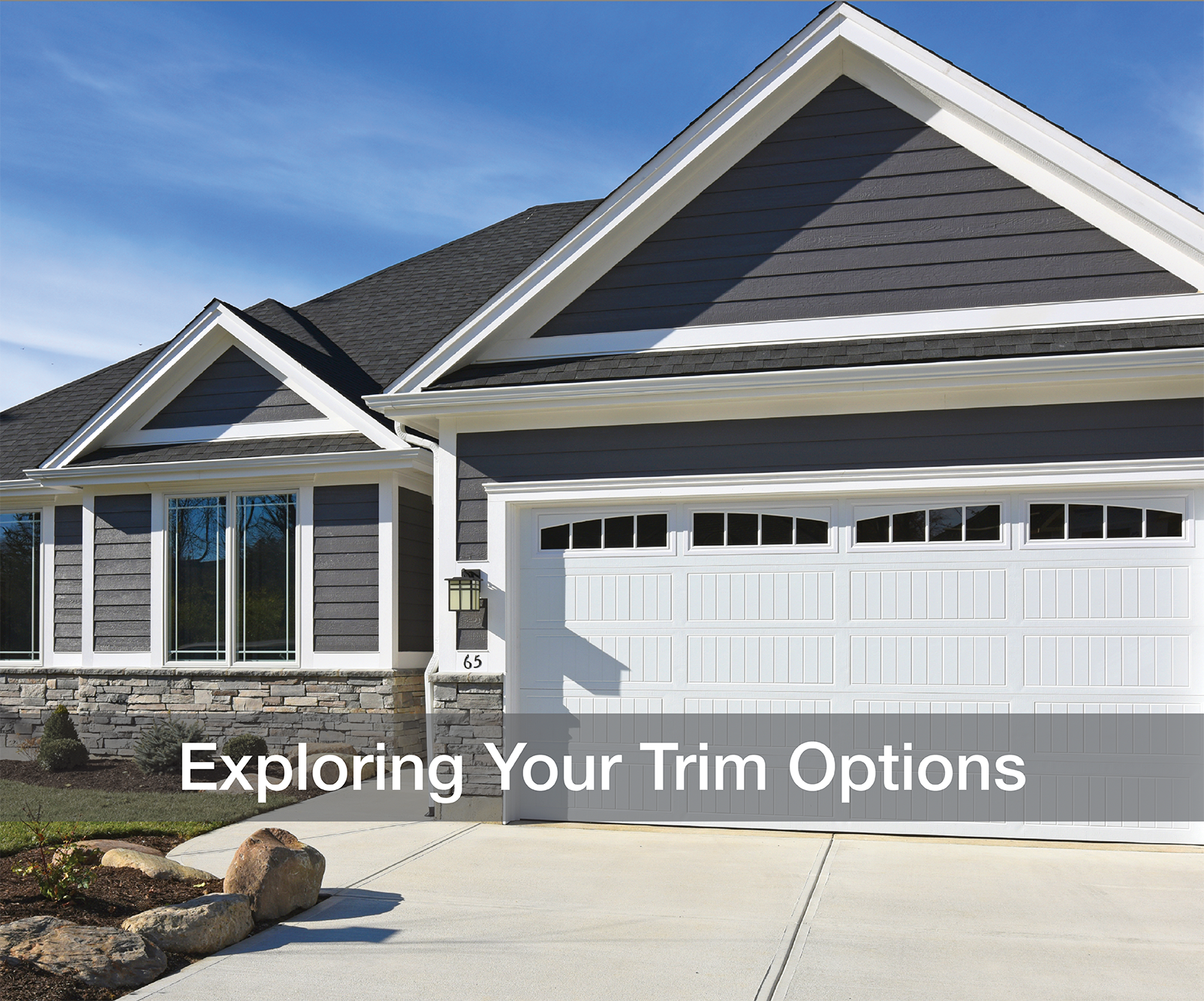 As our industry continues to evolve, new building materials and innovations are constantly emerging, offering homeowners and contractors a wide array of choices for home improvement projects. Trim options, in particular, have witnessed significant advancements with aesthetics, durability, and sustainability. In this article, we will explore our four most popular trim options being used today: AZEK Trim, MiraTEC, Armorite Trim, and RISE Products Trim.
AZEK Trim
AZEK Trim is a revolutionary synthetic material that has been a favorite for years. Made from PVC, AZEK Trim is loved for its exceptional strength and moisture resistance, making it a popular choice for various exterior applications. One of its most significant advantages is that it does not absorb moisture, preventing rot, decay, and warping over time. It is a low maintenance option and will last longer than other options. This sets it apart from traditional wood trims that are prone to weather-related damage. It's versatile and can be used anywhere you would use other trim and molding products. It also provides excellent dimensional stability, making it a popular choice for exterior applications, where exposure to weather elements is a concern.

One key benefit of AZEK trim is that it can be painted in any color desired with their Paint Pro technology, allowing for customization to match the architectural style and design preferences of a particular project. Additionally, it requires minimal maintenance, making it a durable and long-lasting option for exterior trim work.
MiraTEC Composite Trim
MiraTEC Treated Exterior Composite Trim is made from the patented TEC™ process and is a favorite among our Dealers. It is a great wood alternative option featuring an authentic woodgrain pattern on one side, smooth on the other, and has the long-lasting performance of an engineered product. Competitive and long term performance testing shows MiraTEC outperforms the competition in moisture, rot and termite resistance. Because it is not hardboard, MiraTEC trim will not delaminate and is backed by a 50-year limited warranty.
Armorite™ Exterior Trim
Armorite Trim is a newer trim option we have recently made available to our dealers. It's extremely strong and easy to handle, even at 16' lengths. It's made from western softwood and has an MR50 rating ensuring it is moisture resistant and durable. Its composition makes it resistant to rot, mold, mildew, and insects, ensuring a long lifespan for any application. Contractors love how easy it is to mill and that each piece is reversible with a smooth finish on one side and woodgrain on the other.
Armorite Trim is engineered for straightforward installation. It requires minimal maintenance, reducing the need for harmful chemicals and preserving its attractive appearance for years to come. It resists moisture, rot, decay, and termites with no-added formaldehyde. You can use it in all climates and it is adaptable for your custom architectural accents as it is available in both smooth and woodgrain surfaces, in a single product. Plus, you can feel good about your investment with its exceptional 50-year warranty coverage.

RISE Trim
RISE Building Products offers an innovative trim option that has made a name for itself due to its unique blend of materials and unmatched versatility. RISE trim is a breakthrough synthetic product that looks and works just like real wood, and is second to none in aesthetics and durability. It is made from 94% recycled materials including re-purposed synthetic fibers and polymer waste, such as automotive liners, flooring and other high quality products, that would otherwise go to landfills. The advanced composition of RISE Trim results in a lightweight yet durable material, making it easy to handle during installation. Additionally, its dimensional stability ensures that it remains resistant to expansion and contraction, even in harsh weather conditions.
Each of these new trim options brings its own set of advantages to the table. AZEK Trim excels in moisture resistance, making it a reliable option for exterior applications. Armorite has advantages over wood trim, is easy to mill and is reversible with a smooth and woodgrain texture. RISE Trim prioritizes sustainability, utilizing recycled materials and reducing maintenance requirements.
Josh Thompson, Vice President of Product Management, shared, "We cover the category well with entry level wood replacement products to PVC trim. In addition, we offer products that allow us to offer a full system for Nichiha fiber cement and RISE Building Products." Ultimately, the choice between these trim options will depend on specific project requirements, budget considerations, and personal preferences.
Whether it's for exterior facades, window casings, door surrounds, or interior accents, these new trim options offer exciting alternatives to traditional materials and pave the way for a more efficient and sustainable industry. Please contact our team with any questions about your projects.
Back to All