Palmer-Donavin Brings Malarkey Roofing Products to Midwest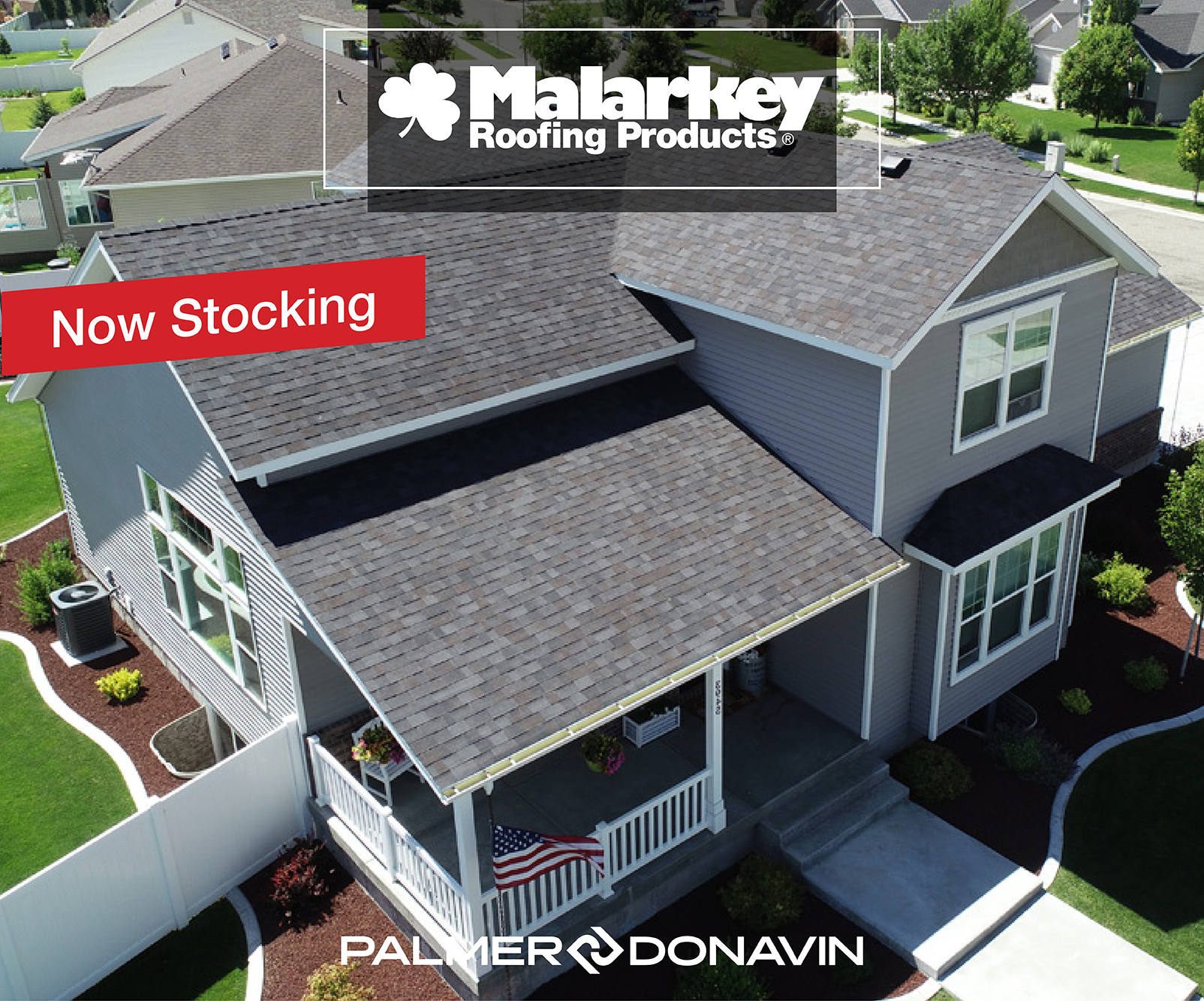 Columbus, Ohio, January 9, 2023 | Palmer-Donavin today announced it is adding Malarkey Roofing Products® to their offering.
Josh Thompson, Vice President of Product Management at Palmer-Donavin, shared, "Palmer-Donavin is excited to bring Malarkey Roofing Products to the Midwest. Until now, most of Malarkey's focus has been in the western US. Palmer-Donavin is one of the first distributors to carry the line in the Midwest, and Malarkey will be available to building material customers in Palmer-Donavin's footprint."
Palmer-Donavin is now stocking Highlander® NEX® AR and Vista® AR Architectural Shingles along with accessories.
Thompson added, "Malarkey is part of our focus to find manufacturers that are putting more effort into producing sustainable products. For example, Malarkey is diverting rubber tires and plastic bags from landfills along with integrating smog-reducing granules atop their shingles."
"Malarkey Roofing Products is proud to be among the most preferred products offered by Palmer- Donavin," said Tom Fisher, Midwest Regional Sales Manager, Malarkey Roofing Products. "This distribution relationship allows us to bring more of our performance-driven and sustainably-designed roofing shingles to contractors and homeowners in the Midwest. Made with upcycled rubber and plastics to reduce landfill waste, and smog-reducing granules that help clean the air, Malarkey shingles perform better on the roof and are better for the environment."
Matt Butzier, COO of Palmer-Donavin, added, "Adding a partner like Malarkey demonstrates our commitment to the category overall. We look forward to developing a market for Malarkey given their quality offering and dedication to sustainability."
About Palmer-Donavin
For more than 100 years, Palmer-Donavin has been committed to providing exceptional customer service. A leader in building material distribution and door fabrication, we are built from employee owners who believe in putting in the hard work to earn relationships one order at a time. Our tagline is "We Deliver More" — products, expertise, and solutions that help our customers succeed. Learn more at palmerdonavin.com. Contact: Jenna Koenig, Digital Marketing Specialist, jenna.koenig@palmerdonavin.com.
About Malarkey Roofing Products®
Malarkey Roofing Products® is a Portland, Oregon-based roofing manufacturer that provides performance-driven residential, commercial, and sustainable roofing. The company created the industry's first roofing shingles with smog-reducing and cool roofing granules and pioneered the use of NEX® polymer modified asphalt which utilizes polymers from upcycled plastic bags and tire rubber. For more information, visit malarkeyroofing.com.
Back to All