The Importance of Using a Roofing Underlayment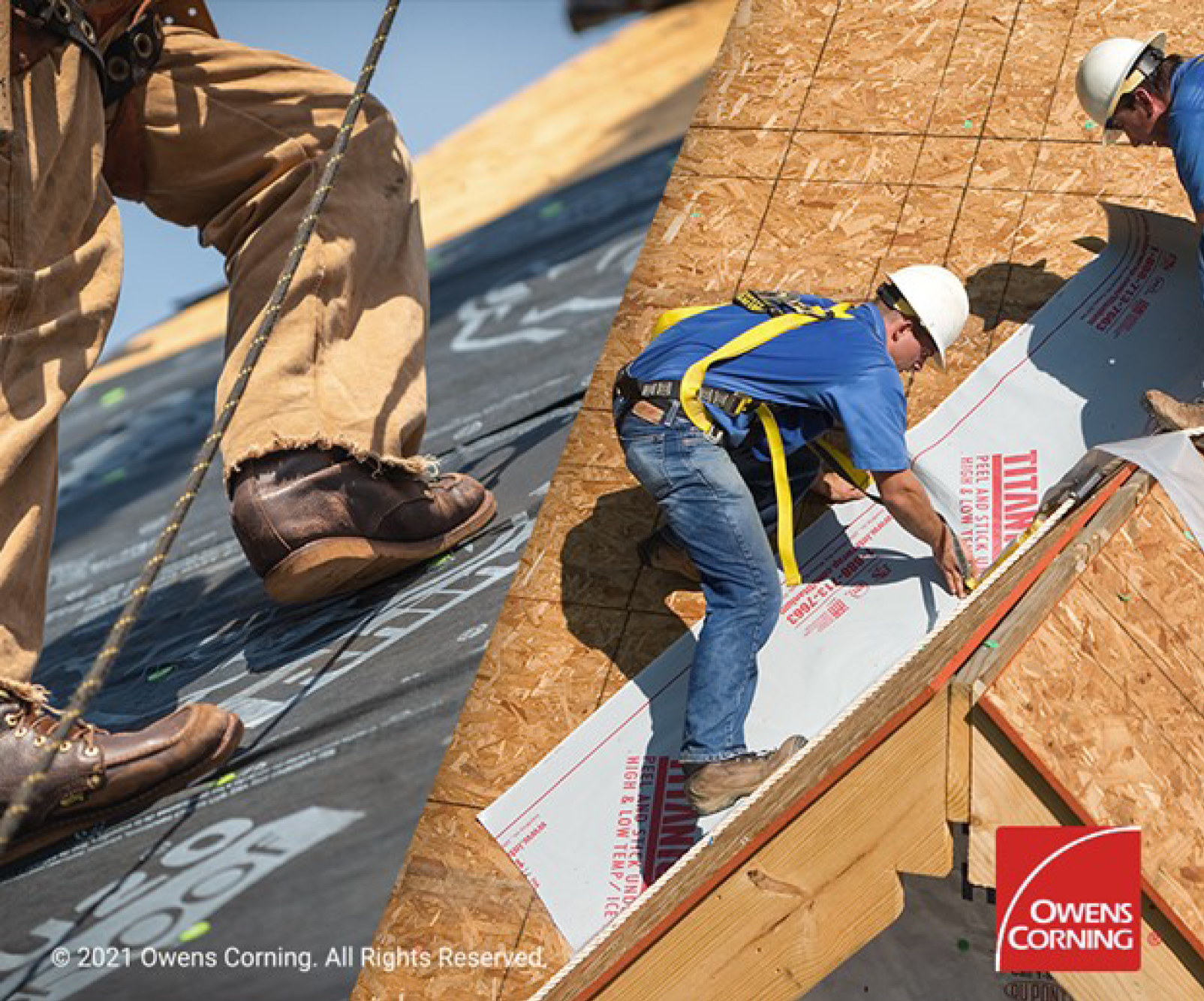 What Is Roofing Underlayment? Why Is It So Important?
If you look at a roof from the outside, you might mistakenly think that it's only layers of shingles. While shingles are a critical part of a roof and its outer shield, your roof needs much more than quality shingles to keep moisture at bay. Your roof is a system made up of many different components, all working towards one goal — defense against the elements.
A roof system typically includes:
Asphalt shingles, or other roof covering material, such as tile or metal
Proper ventilation — placement and quantity
Adequate attic insulation
Sturdy roof decking
Underlayment
Cap Shingles or Hip & Ridge shingles
Read on to learn how underlayment products provide a secondary layer of protection and why choosing synthetic and self-adhered products are worth it for your home.
How Does Roofing Underlayment Protect Your Roof?
Roofing underlayment is a component (sometimes referred to as a roof "accessory") that is applied directly on the roof deck before shingles are installed, providing another layer of protection between your roof shingles and roof deck to help keep moisture or water out of your home.
Underlayment is designed to be a secondary defense against water intrusion. Any moisture that gets past the shingles, either during a storm or in the case of an ice dam, comes face-to-face with the underlayment. Underlayment products can help keep your roof decking dry and safe during all types of weather events.
Do I Have to Use Roofing Underlayment?
Besides helping to keep your roof deck safe from water damage, almost all building codes require some type of underlayment product to be used during construction.
Synthetic and self-adhered underlayments when used with asphalt shingles meet the UL Class A fire rating, and regional (ex. hurricanes) and insurance requirements. Additionally, shingle manufacturers require underlayments to qualify for their product warranties. Not only will your roof hold up better over time, but synthetic roofing underlayments can help defend against the worst of Mother Nature.
High-Rated Types of Underlayment Products
Depending on your region of the country and your roof design, most homeowners choose either a synthetic underlayment or a self-adhered underlayment for advanced water protection.
What Are Synthetic Roof Underlayments?
Synthetic underlayments are made from engineered polymers that are spun or woven into a sturdy, long-lasting fabric. The tight weave and polymer construction make synthetic underlayments particularly resistant to moisture, so your OSB or plywood roof deck stays dry and solid.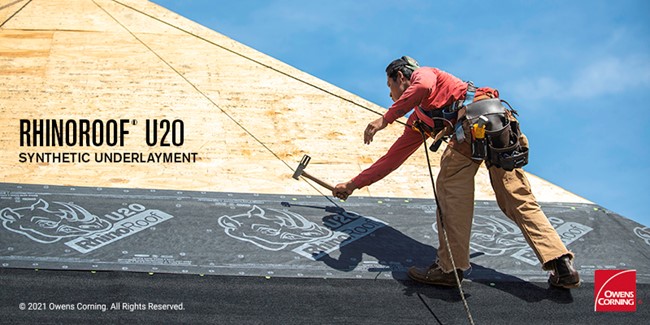 Not only do synthetic underlayments protect your roof deck from water, but they provide additional benefits to the homeowner and roofing contractor.
Extra strength – The extra strength of synthetic underlayments helps them resist tearing. This applies to foot traffic during construction and storm damage when shingles are dislodged.
Slip-resistance – Synthetic underlayments offer a slip-resistant gripping surface to roof workers. It not only helps protect them but facilitates a smoother construction process.
UV-exposure – The UV exposure of synthetic underlayments means you can leave your roof uncovered for more extended periods during construction. Should something delay work, you don't have to worry about exposure damage.
Limited Warranty – Many synthetic underlayment products come with a limited warranty. One example is RhinoRoof U20 which offers homeowners a peace-of-mind, 20-year limited warranty.
How Do Self-Adhered Underlayments Work?
As the name implies, self-adhered underlayments stick directly to the roof decking, creating a water-tight seal. Peel-and-stick technology helps make it easier for the workers to apply the extremely tacky backing to the deck.
This high-performance underlayment product is often used in areas of roof penetration, such as around vents, skylights, chimneys and along the eaves where ice dams may cause water to pool.
In addition to offering some of the same benefits of standard synthetic underlayments, such as walkability, UV exposure and limited warranties, self-adhered underlayments ensure complete waterproof protection.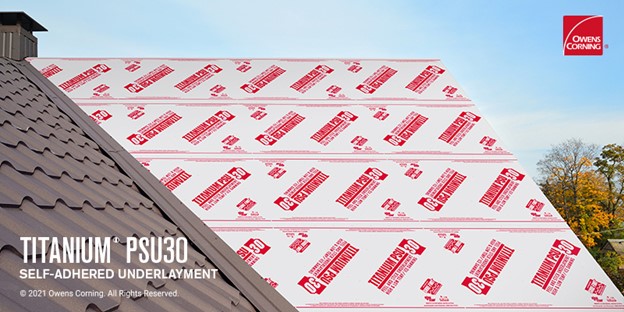 Superior products like Titanium PSU30 are great choices if you live in an area of severe weather or want to add extra shielding around roof outcroppings and valleys. Self-adhered underlayment products can also be applied to the entire roof surface for a secondary waterproof barrier.
Why Synthetic and Self-Adhered Underlayments are the Products of Choice
Whether you're building your home or reroofing an existing structure, you want to choose the best products to give long-lasting protection. You also want cost-effective solutions that give you the best bang for your buck.
Benefits of Using Synthetic Underlayment Products
Using synthetic underlayment products underneath asphalt shingles helps give your roof its best chance of success by:
Preventing moisture from reaching the roof sheathing (roof deck). This helps to reduce or eliminate warping and rotting of the roof deck and mold growth.
Making life easier for the construction crew. With more secure footing, line guides for installation, and more coverage per roll, synthetic installation can help keep your project on track, start to finish.
Enduring year after year and storm after storm. The engineered woven polymer fabric is tear-resistant and durable, which is why respected manufacturers offer limited warranties of up to 20 years.
Benefits of Using Self-Adhered Underlayment Products
Additionally, self-adhered products help to seal valleys and roof penetrations, such as chimneys, vents, and skylights. No openings for water means no leaks in the attic — and no wet insulation or damp spots on the ceiling.
Where to Buy Synthetic and Self-Adhered Underlayment Products
Choose reputable roofing manufacturers and supply companies when looking for superior underlayment products. Palmer-Donavin offers synthetic underlayment options from Owens Corning, all designed to give your roof that extra layer of protection against moisture intrusion.
Your roofing contractor or a representative from Palmer-Donavin can help you decide which underlayment option is the best fit for your roof design and your region's building codes and weather conditions. Your home's roof represents a significant investment. By keeping it protected and shielded from adverse weather, you can enjoy years of reliable service.
Back to All