3-Minute Purchasing Update with Josh Thompson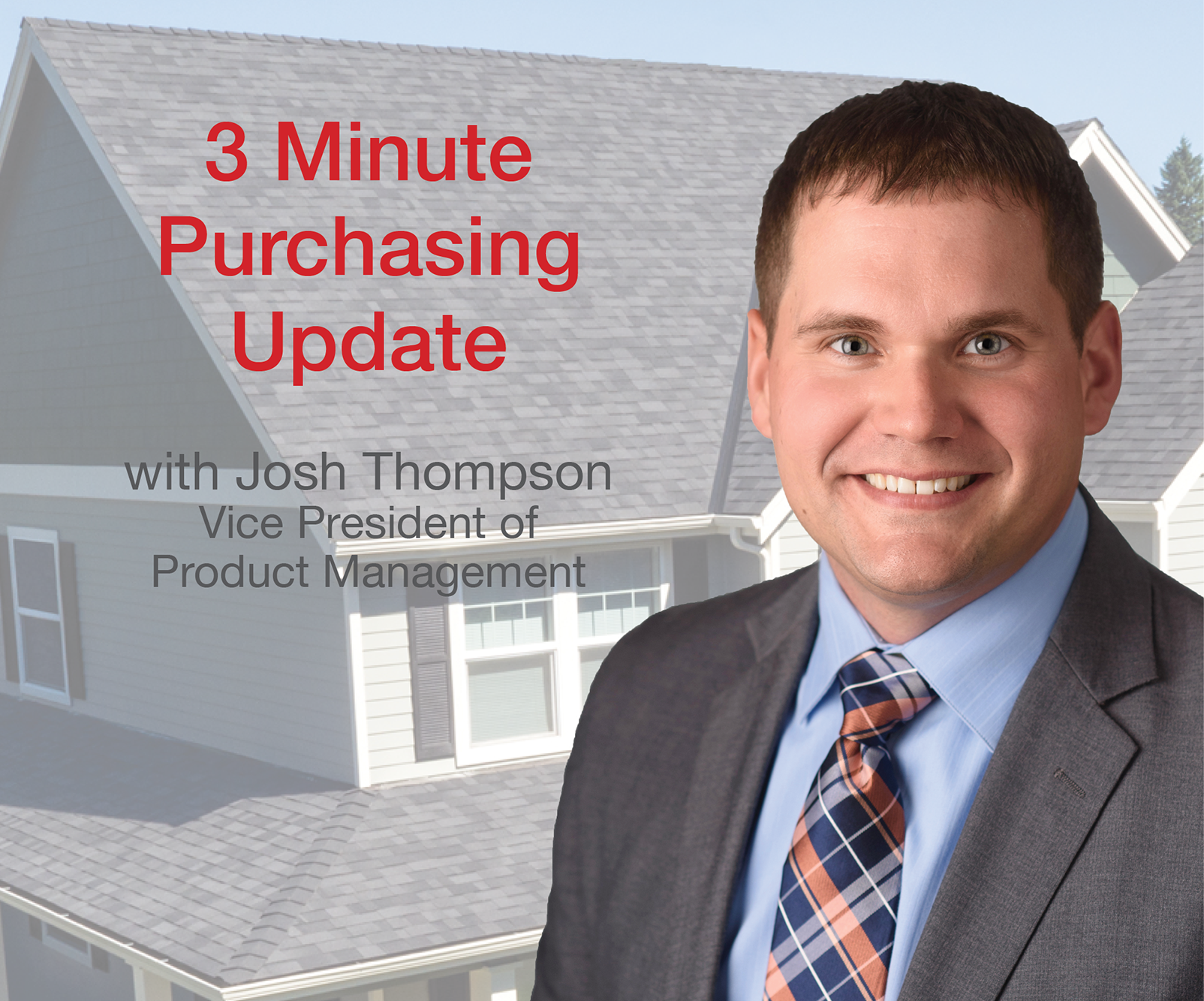 Since 2020, we have seen a considerable amount of fluctuation and change in our industry. Shortage in material and labor have made many of us change the way we buy and sell our products. With demand slowing and products becoming more readily available, what should we expect to see in 2023? We sat down with Josh Thompson, our Vice President of Product Management, for a 3-minute update on his outlook on products and pricing this year.
Will Palmer-Donavin offer new products this year?
Yes, we are excited to launch three new products in 2023.
Malarkey Roofing | Malarkey is not a new name to asphalt roofing, but it is new in the Midwest. Malarkey has three plants in the western United States (Oregon, California, and Oklahoma). The company was recently purchased by Holcim (Firestone) and has developed a plan to expand Malarkey across the US. In addition to great selling features on their full lineup of rubberized asphalt shingles, you will not find Malarkey in a lot of places yet. This gives our dealers a great opportunity to talk about something different with their customers. Inventory is in-stock now and lead times are currently three weeks on truckloads.
Woodward Cabinetry Expansion | As industry lead times on cabinets went out the last couple of years, our sales on Woodward Cabinetry increased substantially. The line offered the specs customers were looking for at a great price and reasonable lead time. Our stock position started with the Classic Collection in Snow and then expanded to Bark. Due to the popularity in style and trending color options, PD is now bringing in the Omni Collection in Mineral and Snow. Omni doors feature a full overlay and a 5-piece drawer front.
RISE Siding & Trim | We kicked off the launch of this line in the second half of 2022 but did not get our full inventory in until late in the year. RISE has a great story to tell as more customers look to sustainable products. 94% of the product is made from recycled carpet fibers and the finished look is very similar to engineered wood. PD is stocking 10 prefinished colors and primed in a 7" siding and primed and white in 4/4 and 5/4 trim.
What can we expect to see with product pricing this year?
Circumstances drastically changed as lead times came down late in 2022 and product was readily available again in most categories. Since November 1st, you haven't seen many price increases in the market. In fact, there have been a few price decreases. Outside of lumber, metal products was the first category to move with many manufacturers moving at least 5% down. There remains a lot of uncertainty around the vinyl siding category, but it was assuring to see all four of our Manufacturers participate again by offering show specials over the past month (first time since 2020). For asphalt roofing, there are not many changes as CertainTeed and Owens Corning are still on planned availability, indicating they continue to sell more product than they can produce. Outside of those updates, Manufacturers seem to be getting back to normal with lead times and removing additional delivery surcharges we might have seen in the last couple of years.
What is your purchasing outlook for this year?
Overall, there is no doubt 2023 will be quite the opposite of the last couple of years. It isn't "buy as much as you can possibly get anymore". Dealers should be mindful of their inventory and be strategic on when to buy as they watch for deflation. Most customers bought fairly normal during the PD Winter Show, which is a great way to buy at a discount and be able to adjust if the market changes in a product category. Given that costs are going up in other areas (trucking, labor, etc.), you aren't seeing anyone talk about substantial deflation in the short term (10%+). Now, as the year goes on, further deflation is really going to depend on the economy and what business looks like in each category.
If you have any questions about the products we offer or which products are more advantageous for you to stock, please contact your Outside Sales Representative for personalized data and analytics.
Back to All