Palmer-Donavin Welcomes Sales Apprentice and Inaugural Operations Leadership Development Program Participants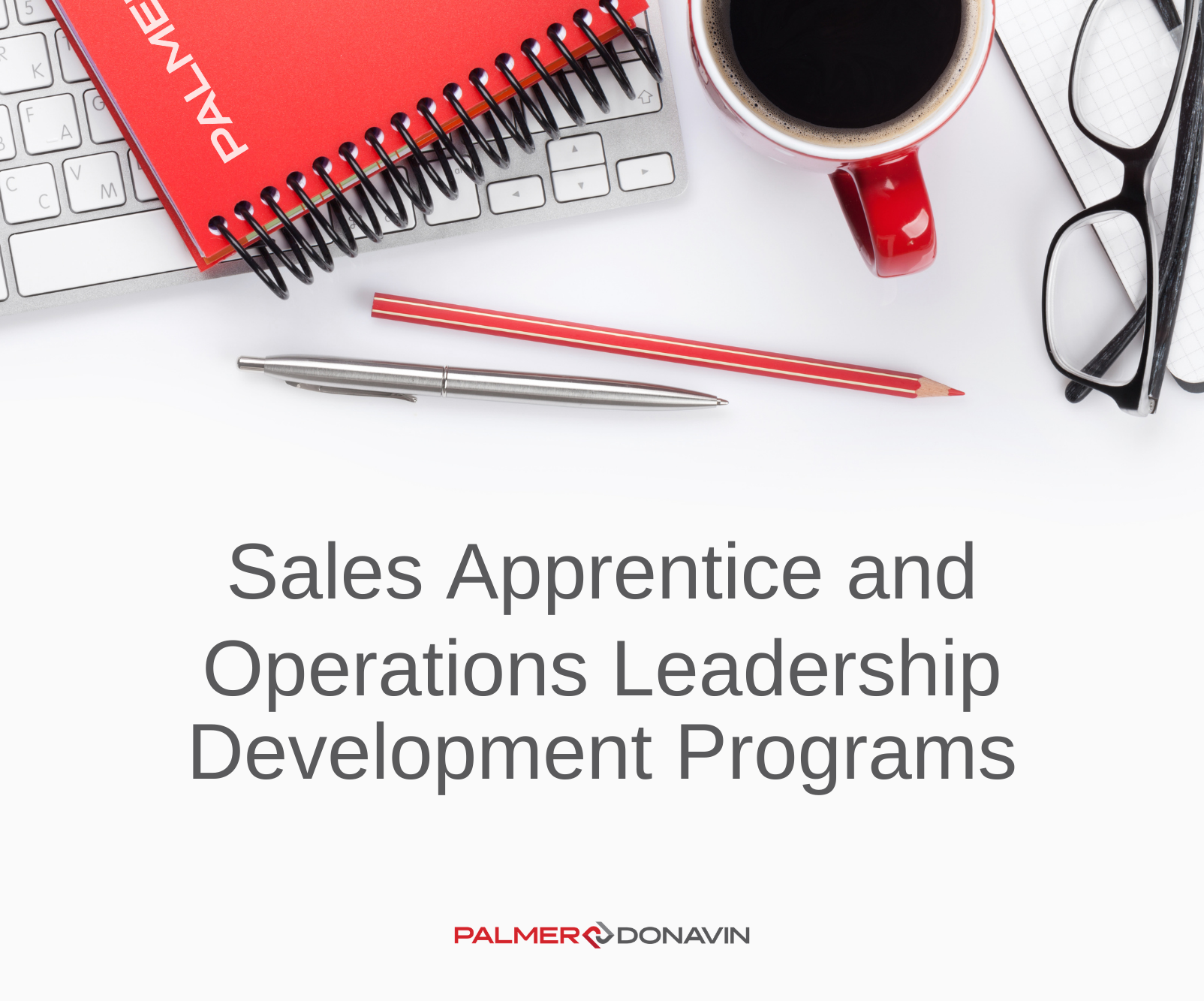 Columbus, Ohio, June 14, 2021 | Palmer-Donavin welcomes members of their 2021 Sales Apprentice Program and inaugural Operations Leadership Development Program.
The company's newest employees represent five Ohio schools, including Ohio State, Ohio University, Bowling Green State University, Ohio Northern and Central Ohio Technical College. The incoming class is comprised of the following members: Jacob Owens, Austin Williams, Drew Verhasselt, Maxwell Rankin, Hunter Hudgins, and Kyle Cooperider.
Established in 2017, the Sales Apprentice Program has proven to be a successful talent development program for the company. Palmer-Donavin partners with Bowling Green State University, Ohio University and The Ohio State University to deliver candidates from their renowned sales programs. The incoming class of sales apprentices will be the first cohort to undergo dual training with both the building materials and door division.
Tom Rodgers, Talent Acquisition Manager at Palmer-Donavin, shared, "Our sales team is well-respected in the industry and known for their professionalism, knowledge, and ability to service customers. We are confident the new Sales Apprentices will develop and grow in the program and add a fresh perspective to our team."
Palmer-Donavin has also announced a new Operations Leadership Development Program (OLDP). Parker Cantwell, Training and Development Specialist for Palmer-Donavin, said, "The inaugural cohort will consist of three participants, who bring impressive experiences and skillsets that we will lean on to continue automating and improving processes in our operations."
The program was created to support the company's business development strategy, as the company continues to seek out acquisition and growth opportunities. The program will consist of capstone courses at both building materials and door division operations under the leadership of Matt Fisher, Director of Production, Tom Bartlett, Vice President of Operations, and the operations leadership groups at each facility.
"Palmer-Donavin is excited to boost our internal bench strength with the programs," Tom Rodgers added. "Developing our employees and promoting from within are important to our team, and we will remain committed to creating growth opportunities for internal candidates. The Sales Apprentice and Operations Leadership Development Programs have supported our effort to be prepared for growth in our business."
About Palmer-Donavin
For more than 100 years, Palmer-Donavin has been committed to providing exceptional customer service. A leader in building material distribution and door fabrication, we are built from employee owners who believe in putting in the hard work to earn relationships one order at a time. Our tagline is "We Deliver More™" — products, expertise, and solutions that help our customers succeed. Learn more at palmerdonavin.com.
Contact: Jenna Koenig, Digital Marketing Specialist, jenna.koenig@palmerdonavin.com
Back to All