How to be on Top of Your Ceiling Sales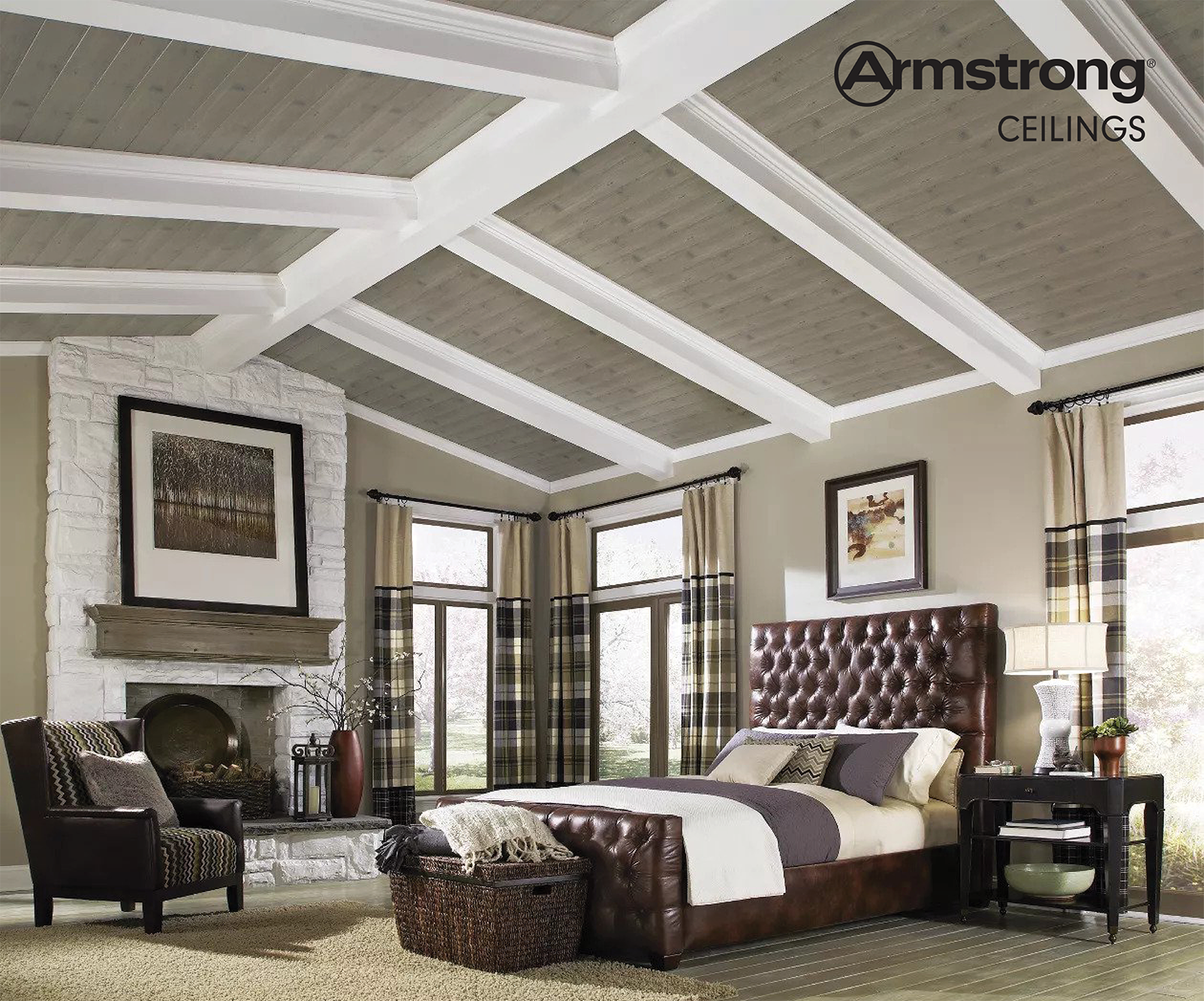 Ceiling projects can range from small to large and you want to be ready with the right resources for contractors and homeowners. If you're already selling ceiling products or want to get into the market, here is a list of showroom resources leading Dealers are using now to stay on top of their ceiling game.
Displays that Sell
Armstrong Ceilings offers a range of displays but some of the most popular include the Angled Wall Display and an In-Ceiling Display. You may be wondering which option will work best for you. Krista Walton, Marketing and Communications Manager at Armstrong, shared, "The Angled Wall Display is our more popular and best option. If a Dealer has wall space available in the showroom, it is a great display to show options for any project. However, if the Dealer doesn't have wall space for a display but does have a suspended 2'x2' drop ceiling installed, they can pop out existing ceiling tiles and replace with our graphics and panels."
From a customer perspective, it is probably easier to see the display if it is hanging on a wall versus having to look straight up at the ceiling, but the ceiling is a great way to show it if there is limited space in a showroom.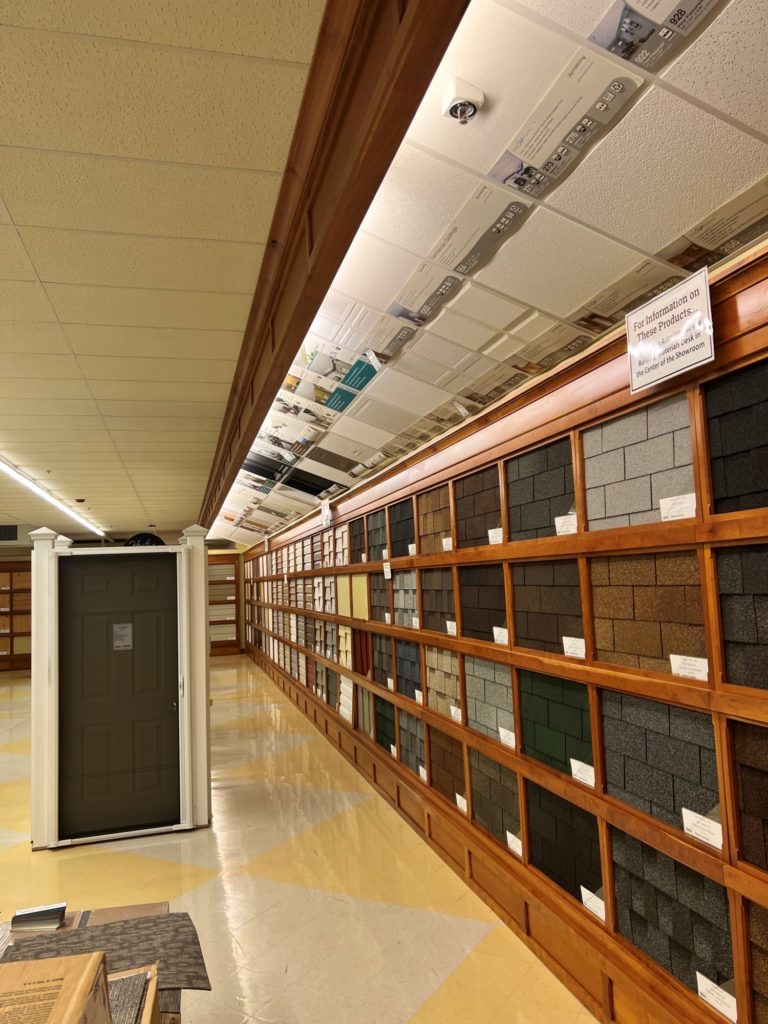 Keim Lumber in Charm, Ohio, has found success with using an extensive overhead wall display along the back of their store. They also included the Easy Elegance coffered ceiling in the new Keim University, a training space for Keim employees. Nelson Miller of Keim said, "It's helpful for dealers to be able to reference the displays or point to displays for a full visual of the tile and to be able to easily compare different options. In-store displays are valuable because it gives our customers the opportunity to see products in person in addition to seeing it on a screen. Having samples is also helpful for the customer, so they can touch and feel the product."
Tim Karcher, Midwest Sales Manager at Armstrong added, "Along with display options, Dealers should be taking advantage of the expanded commercial access business opportunity for both repair and replacement work and new construction opportunities. This is a great way to grow your ceilings business."
Digital Resources that Work
The buying process for homeowners often includes both online and in-store research. Dealers don't need to know everything about ceilings. Armstrong provides digital resources that are helpful during the search. We have found the top digital tools by Armstrong include:
Drop Ceiling Calculator | Don't let layout options give you a headache. Enter your room dimensions and joist direction, and the calculator tool will tell you how to lay out a 2'x2' or 2'x4' drop ceiling grid, and then provides an estimate of materials needed.
Ceiling Project Estimator | This tool will prompt you with questions about your space, allow you to select your ceiling type, and the tool will provide an accurate estimate of materials needed for the project.
Ceiling Replacement Finder | You can use this to find matches for existing or discontinued products. If there is an installed project and the customer wants to replace a few panels, but doesn't know what the product is, the dealer can look on the back of the tile and type the item number into the tool to see if it's still available. If it's a discontinued item, the closest match will be identified. If the item number isn't on the back of the tile, a picture can be uploaded to the tool, which then goes to Tech Line to determine the closest match.
Armstrong Digital Catalog | This interactive digital catalog is a one stop resources that gives you all the information your customer could need in a fast, clickable online tool that stays current throughout the year. The catalog includes links to all the digital resources listed in this article and includes the following features:

Table of Contents: Interactive menu for easy browsing
Bookmarks: Add custom bookmarks for quick reference
Search: Enter keywords to find the right product
Notes: Select the icon and add notes on the page
Videos: View content without leaving the catalog

Tech Line | The Lancaster, PA based Tech Line Team can be reached at 1-877-ARMSTRONG (276-7876) or at techline@armstrongceilings.com to assist with any installation or product questions.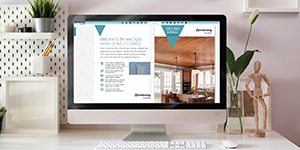 A Dealer can use these tools during the selling process and Palmer-Donavin can assist in creating labels with QR codes that link to the resources above. Showroom visitors and staff can easily access them with the use of a tablet or smartphone. The tools can be bookmarked on an iPad or computer for easy access.
Armstrong provides tools that can help simplify the process and help walk you and your customers through the buying journey. In-store signage, displays, and samples will give the homeowner peace of mind that they know exactly what they are buying. The digital catalog is a helpful reference tool that has information on all ceiling products including installation information, performance features and charts, packaging information, and more. Be sure to use the tools available to help estimate materials needed, lay out a drop ceiling, and find a replacement for an existing ceiling. Lastly, if you prefer to chat with a representative, you have access to a Tech Line to answer specific product or installation questions. They can even help make a product recommendation if someone is trying to decide between a few options. The team at Palmer-Donavin is also available to answer any product related questions you may have. You can always contact us through our website or call us at 800.652.1234.
Back to All