A Dealer's Guide to Deck Material Planning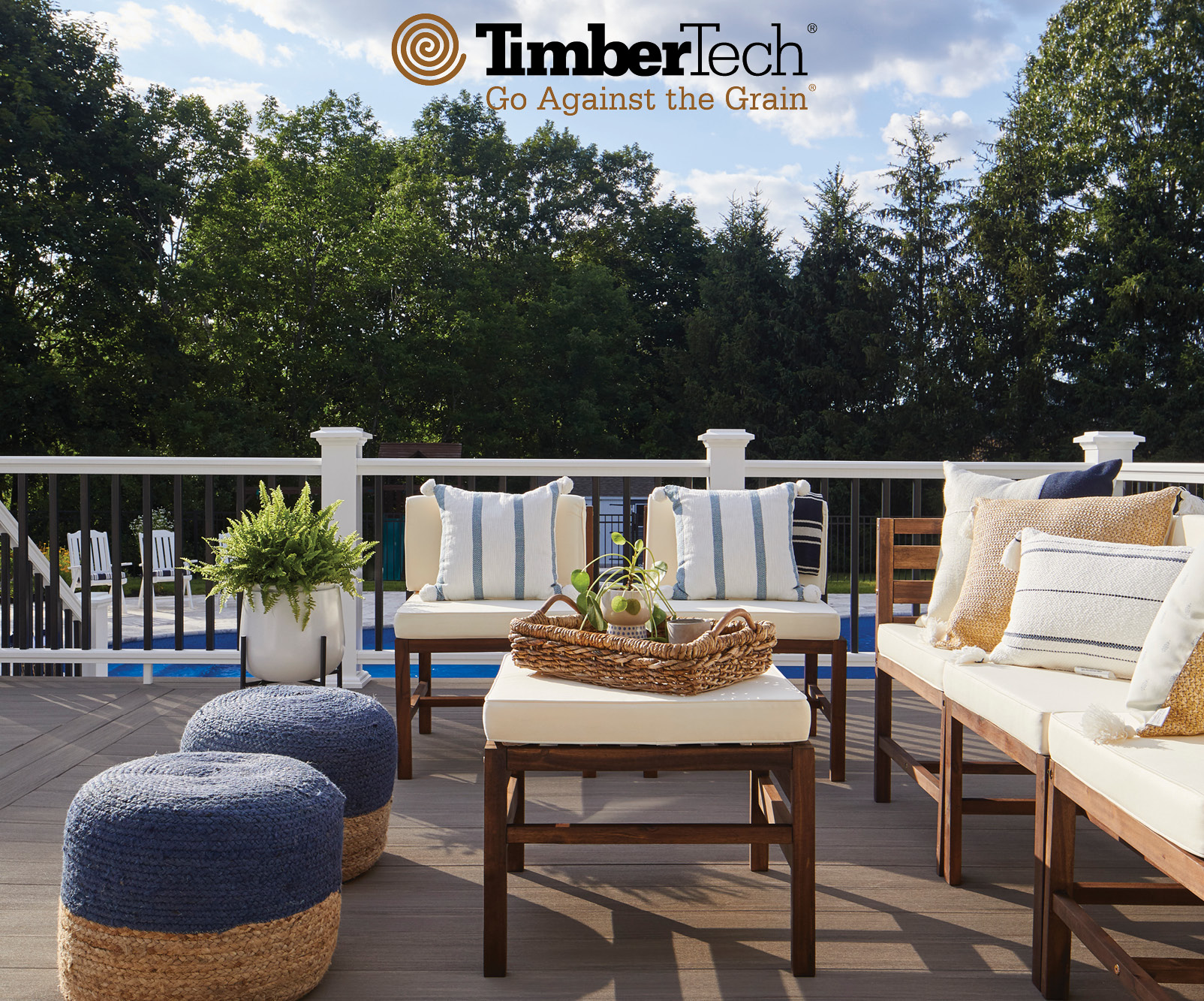 Most Common Questions Asked When Starting a Decking Project
We are in prime decking season and many are craving an outdoor space to call their own. Though the industry is navigating through labor shortages and changes in material prices, the desire to create an outdoor living space is on the rise. We gets hundreds of calls from dealers everyday who have a customer ready to buy a TimberTech® deck or rail package, but many questions come up. We've compiled a list of the most common questions we get from dealers when putting an order together. We have been able to supply material for thousands of decking projects and we get many of the same questions. So, we've created a guide to outline some key tips to help you during your process.
TimberTech Railing
First, let's dive into railing. It's common that ordering railing for a deck can feel complex and difficult, and we want to change that. Here are some of the most common questions our team receives about railing:
1. What is the difference between a universal rail pack versus a custom rail pack for the Classic Composite Series?
A universal rail pack has predrilled holes for composite balusters. A custom rail pack does not have predrilled holes. It will have laser etching on rails, and can be used with aluminum, glass, or cable railing.
2. What is included in the universal/custom rail pack?
Top and bottom support rail, hardware, and foot blocks. The designed top rails (Premier Rail, RadianceRail, and Trademark Rail) are not included in the rail packs – they are now a separate SKU. Remember to purchase your balusters!
3. What are the RadianceRail Express® Rail pack options?
RadianceRail Express can be ordered in the 4 easy steps shown here. We'd like to point out that with RadianceRail Express, there are two rail pack options – one for composite balusters and one for aluminum balusters. The description will state if it is for aluminum balusters. If not, then the option is for the composite. The aluminum balusters for RadianceRail Express will only work with the RadianceRail Express system and aluminum balusters for the Classic Composite series will not work with RadianceRail Express.
4. How many balusters are needed per rail section?
Composite Balusters come 18/pack.
For 6' section – 13 balusters are needed.
For 8' section – 18 balusters are needed.
For 10' section – 23 balusters are needed.
Aluminum Balusters come 20/pack.
For 6' section – 15 balusters are needed.
For 8' section – 20 balusters are needed.
For 10' section – 25 balusters are needed.
Cover existing 4×4 posts with any of these post options (size is outside dimension of post; all three options will sleeve over an existing 4×4 post):
4″x4″

x39″ – AZT4X4PCV39
x96″ – AZT4X4PCV96
Color: White, Black, Matte White, Matte Black, Matte Espresso or Kona (Kona is only available in 4×4 and RadianceRail Express)
· 5″x5″

x42″ – T5X5PCV42
x144″ – T5X5PCV144
Color: White, Black, Matte White, Matte Black or Matte Espresso
5-1/2" x 5-1/2"

x39″ AZEK – A55X55PCV39
x54″ AZEK – A55X55PCV54

x144″ AZEK – A55X55PCV144
Color: White, Black, Matte White, Matte Black, or Matte Espresso
5. How do the aluminum balusters attach to the rail? Screw or plug?
The following come with screws to install your balusters into the support rails: RadianceRail®, Premier Rail®, and Trademark.
6. When and where do I use a taller post for 36" rail heights?
You will use taller posts at the bottom of the stair sections, and you can always cut down if it ends up being too tall. When ordering stair sections, request taller balusters (ie: 36" height would need 31" balusters; aluminum will state stair in the description where composite does not.)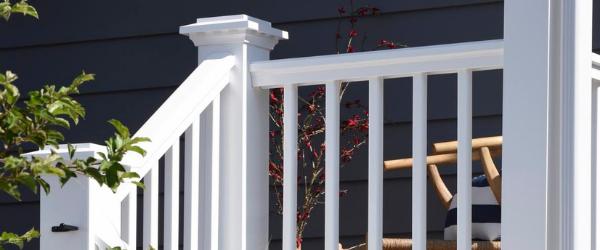 Decking Accessories
We receive many requests for accessory items TimberTech has available. You can view all current accessory items here. Newer products like TimberTech's DeckCleaner and PRO-Tac Flashing and Joist Tape are popular purchases when buying a deck. To enhance your deck's end cuts with a rich finish, end coating is also available from TimberTech and delivers superior durability and performance. If you are selling TimberTech AZEK decking, TimberTech offers these 5 steps to get an exact match from these leading manufacturers.

Fastening
You may be wondering how many screws you need for your project. Here is a guide depending on the size of your deck:
TimberTech AZEK
Cortex
Note: These are available in both loose and collated (plugs on a strip)
100sqft box – 350 screws, 400 plugs and 3 bits
300sqft box – 1,050 screws, 1,200 plugs and 6 bits
Toploc
100sqft deck fastener – 350 screws/bx
300sqft deck fastener – 1,050 screws/bx
Fascia
TimberTech AZEK recommends 36 screws per fascia board – 3 screws from top to bottom every 12 inches. We offer 100 screws/box.
TimberTech PRO® & EDGE® Decking
Cortex
100LF box (~64sqft) – 224 screws, 300 plugs and 1 bit
Important: You cannot use Cortex with Terrain and Edge Prime and Prime+ series of decking. TimberTech states Cortex is designed for traditional decking and not for decking with scalloped bottoms.
Toploc
100sqft deck fastener – 350 screws/bx
300sqft deck fastener – 1,050 screws/bx
Fascia
TimberTech recommends 14 screws per fascia board – 2 on each end (top and bottom) and one every 12", alternating top and bottom. We offer 100 screws/box. You will have to purchase a fascia bit for TimberTech fascia screws.
Full Profile vs. Scalloped Profile

We recommend using our Deck Screw Color Match Chart for a quick reference of fastener options for each color of TimberTech Decking.
What fasteners should be used for porch floors?
Minimum #7 x 2″ 305 stainless steel trim head screw with #17 drill point.
When using a pneumatic flooring nailer, AZEK suggests using barbed/serrated 2″ stainless steel cleat "T" nails or "L" cleats.
For salt water coastal applications, AZEK suggests using the above minimum fastener requirements in 316 stainless steel fasteners.
Finishing with screws & fasteners.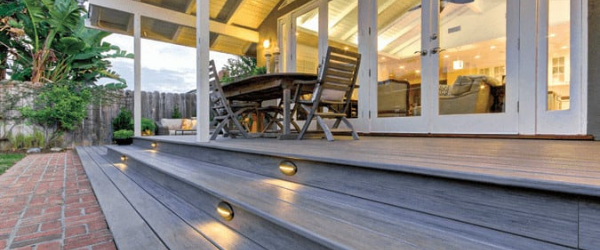 Lighting
Deck lighting adds so much to the ambiance of a deck, we don't want questions or uncertainty to get in the way of adding it to your next decking project.
What light wattage is used in each part of the deck and rail:
Post Cap: 4-watts
Island Cap, Accent, Under Rail, and Stair Riser: 2-watts
In-Deck: 1-watt
Optional dimmer with remote for use with a 100-watt transformer: 20-watts
You can opt to use the transformer with 90-watts, or the 150-watt PowerPack with built-in dimmer, timer, and dusk-sensing photo-eye. You can use up to 40-watts per circuit and 90-watts per transformer.
Resources to Keep on Hand
We talk to many professionals, and we have found we send the most commonly used guides shown below the most. A great place to start your order is using the Rail Order Guide available on Connect, our online store where dealers can shop for building materials.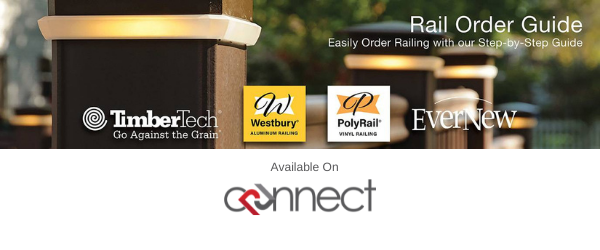 Railing shouldn't be difficult. These guides walk you through the diverse range of TimberTech railing profiles.
This is a primary brochure that shows all available product and sizes.
TimberTech Decking Product Comparison Chart
See how each decking option stacks up to the other.
Request Samples
You can request deck samples directly from TimberTech. See the many materials, textures, and colors TimberTech offers — then get up to 4 samples for free.
Back to All